On Tuesday my boss from the car rental told me, the worker I had been covering for returned earlier and that they'd need my help no more. He thanked me for helping him out, told me I was a good worker and out I was. Came somewhat surprising but I can't really expect much from a job that's completely of the books.
The next morning I got a call from another car rental, they got my number from my former boss and needed someone to cover for the day. As I already had plans for that day I had to decline but good to see that my work was apparently appreciated.
And about those other plans I already had … well it all started with this innocent job ad in the Saturday news paper two weeks ago: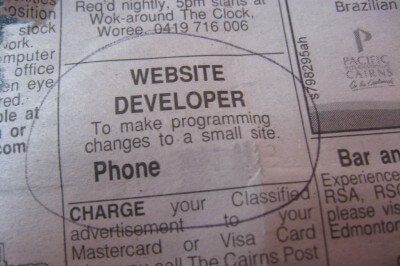 As I was looking for some afternoon work I gave them a call and an hour later I was in the city for a little job interview. A job interview in shorts and flip-flops. The guy who posted the ad, Andy, runs a small office in the city and needed someone to do some changes to his website.
He doesn't want any local IT companies to work for him cause then "his system would end up with all the businesses in the city". After a quick look at his system I felt pretty sure that nobody would want to copy that. But who am I to judge.
The website is about six years old and over that time has been 'maintained' by about a dozen different developers. One of them a 15yo student from Germany.
Anyway, in need for money and always looking for adventures I offered him to do the tasks he needed done. He doesn't want to pay me by the hour (I can understand that) and thus I told him I'd come back to him with an offer a few days later.
So when I called him back the next week he told me the original developers of the tasks he wanted to give to me offered to finish their work free of additional charges. So no work there for me. Yet he had another project that he wanted to give to me.
I dropped by his office to discuss the details on Wednesday (those where the plans mentioned earlier) and we agreed that I'd come back the next day, put in a couple of hours and he'd pay me by the end of the day.
And that's what I did. After five hours of messing with the messy system I showed him my work and he was more than happy. "That looks awesome, great job, man!".
So that's how I earned my first money doing IT work in Oz. Seriously, if it wouldn't pay me such good money, I would run far far away from that job but the way it is I'll come back on Monday to put my sanity at stake once more.