Just a few metres down the street is what looks like a Buddhist temple. A monk is reading from a script and speakers broadcast his speech onto the street. People sit in the temple and in the street in front of it, listening.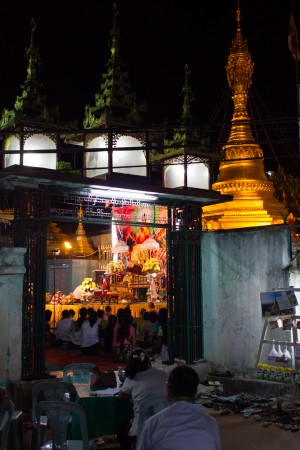 Religion in the neighbourhood seems to be mixed. Aside from the apparently Buddhist, I've seen a Hindu temple and a few guys with what I could swear is Muslim head cloth.
It's nice around here, locals smile, kids say hello and nobody wants to sell me anything. Except for the taxi drivers, but they are not persistent.
A teenage boy sees me and walks after me with his hands raised over his head, imitating how tall I am. The little comedian gets some laughters from his friends.
The main roads around the area are Southeast Asian standard: Noisy traffic and street food galore.