Can't believe I've already left Bangkok again. I had a couple of really good days and (as usually) was reluctant to leave Thailand. But with Myanmar calling, it was much easier to leave. I had an 11:30 flight out of BKK's old airport, Don Mueang, which in terms of facilities isn't exactly up to speed with Suvarnabhumi. Still, getting there is easy enough and the longest part of the trip was waiting for AirAsia to check people in at glacier speed.
The hop over to Yangon was really just that, a hop. Don't know if the plane even climbed to cruising height.
Now it's been a few hours in Myanmar and so far I really like it. Immigration at the airport was smooth, fast and reasonably friendly (for immigration officials' standards). Taxis to the city are arranged by airport staff with the price declared up-front. That's so much better than many other countries in the area, where being ripped-off by dodgy cabbies is often the first experience visitors have. But not so in Yangon.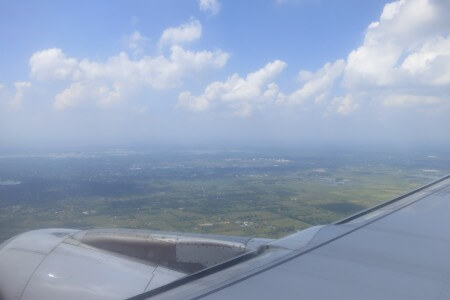 The hostel is top-notch so far. I think it's the priciest in town but it easily blows my last accommodation in BKK out of the water. So far I've only had a short stroll through the neighbourhood and it seems fairly relaxed. Locals are friendly and I haven't seen any other westerners.
My schedule for the country (got 3 1/2 weeks) is nearly non-existent and I'll need to have a think about possible destination in the next couple of days. Didn't really get around to that in Bangkok, thanks to busy and really cool days. Will write more on that later.