Just a couple of minutes from Katoomba on the Great Western Highway towards Sydney lies the small town of Wentworth Falls. It's named after a nearby waterfall and the whole area offers some nice walks. One of the tracks leads across the top of the waterfall on stepping stones in the water.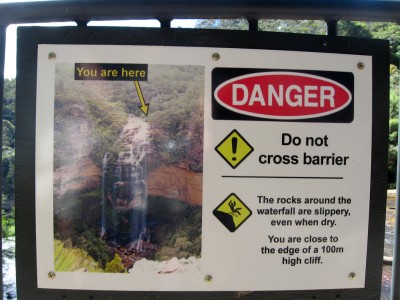 Such warning signs are one thing I like about Australia. It doesn't just say "Danger, do not cross" but rather explains why crossing would be dangerous. That's a good way to encourage people to use their brain. A short walk through the bush led us to a nice spot on the cliff with a colourful view on the falls.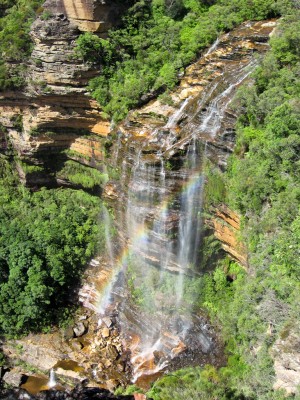 Upcoming clouds announced rain and we headed back to the car park. We went there via a narrow track that leads along and under the cliff. Especially the parts under the cliff were definitely not made for people my size.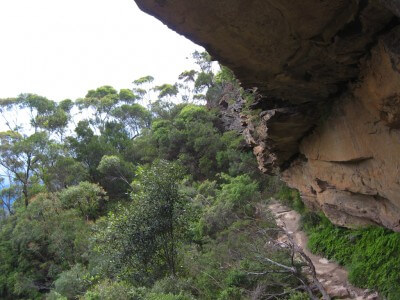 The track was a bit of an adventure with muddy puddles and slippery rocks but very nice.
Back at the hostel we went to our favourite place, the fire. For a couple of days the night time temperatures dropped to 5° C and everybody gathered around the fire places inside and outside. By now I learned how to chop wood (with a blunt axe) and light up a log fire.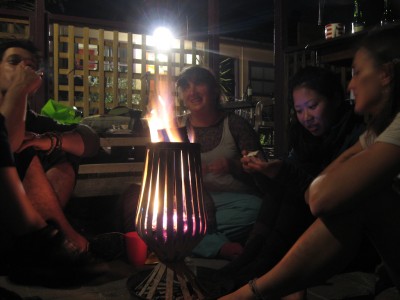 The crowd at this hostel is much more diverse than at most other places I've visited. People from all over Europe and Asia and even Australia stay here and share stories around the log fire. An Aussie redneck tells us how angry kangaroos get when you shoot them and a French web designer asked me to do some business with him. Very diverse!
The Flying Fox Backpackers Hostel Katoomba, an amazing place for those that value atmosphere over comfort. My favourite hostel of all Australia.