We're still in Katoomba. The weather has been a bit unstable during the last days but yesterday it was good enough to go for a little walk. We wanted to see the hanging rock. Even though that place made it to the cover of the Lonely Planet Australia (backpacker travel guide) it's on none of the maps the local tourist information hands out.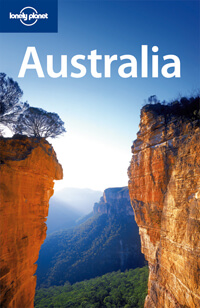 Main reasons for that are that the place is rather hard to reach and basically as dangerous as it looks on the picture. No fences, just cliffs. The staff at the hostel provided us with directions and after a short drive on the highway we reached the fire trail that leads to the lookout.
We had to park the car soon as big puddles of muddy water on the gravel road demanded 4WD and high ground clearance. The following one hour walk led us through light forest and to the tip of the cliff.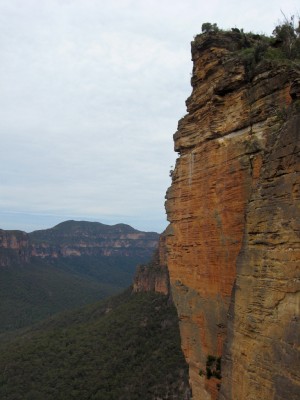 To give you an idea of how high the cliff is, look at Hiro in this picture.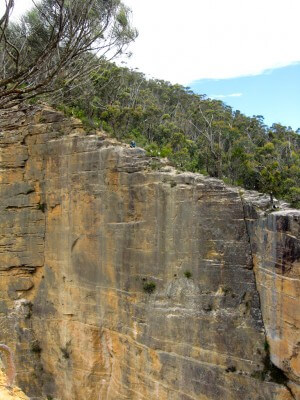 We walked along the edge down to the Hanging Rock. It's not actually hanging of course but a crack in the rock gives that impression.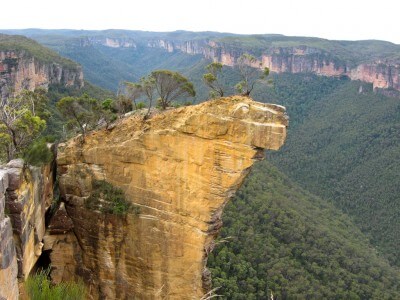 The crack is roughly 50cm wide so it is rather easy (yet still a bit dangerous) to step on the hanging part of the rock. We spent about an hour at the place before we headed back to the car.
The nights in Katoomba (1017m above sea level) are still fresh and sleeping in a tent with 11° C outside is not the most pleasant experience.