I wanted to write a bit about Christmas in the Blue Mountains, Christmas Eve around the log fire and late night BBQ but that has to wait for a while.
We left Katoomba yesterday without a real plan on where to go and what to do. All we knew was that after two weeks of partying around the log fire we needed to get our asses up.
Today we wanted to spent the night at a camp site in the mountains. Unfortunately halfway up the road the "check battery" light went on. Not a good sign. I pulled the car over and called my friends from the NRMA.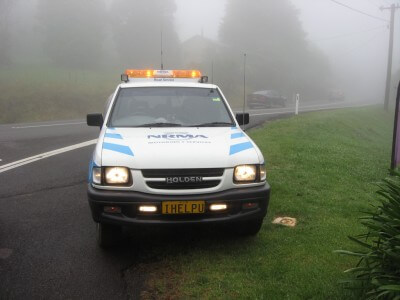 Not even half an hour later roadside assistance arrived (have a look at the license plate) and after some checks we were told that the alternator had quit his service.
Being basically between two towns with dangerous winding roads each way we decided to have a tow truck take the car back to the coast. Craig, the NRMA guy, led us into the next settlement called Robertson and to the local hotel/pub/bistro.
To warm our cold bones up we ordered tea and coffee. No luck for us, the coffee machine was broken. Yet after we mentioned that our car broke down they organized some tea bags and hot water from the depths of the kitchen. They even refused to charge us because we had such a bad day. I love Aussies.
A mere four hours later the tow truck arrived. It's a public holiday in Oz and everybody is travelling and breaking down. At 9pm we arrived at a mechanic in Albin Park. We're gonna spend the night in the car in the backyard hoping that he can organise a second hand spare part for us in the not so far future.