Tuesday, Nov 9th. Day 2 of the road trip. We are leaving Bingil Bay in the morning intending to drive the 250km to Townsville without major stops. After we left Ingham behind there were no towns coming up on the road for the next 100km. Driving there is just freaking boring for me so I usually swap with Hiroko. She hasn't been driving for two years and those empty endless country roads are perfect to give her some practice.
Upon our arrival in Townsville we set up our camp at a caravan park near the city. Once that was done we drove up a big mountain that's basically the centre of Townsville. We had an amazing view of some heavy rainfalls over the airport.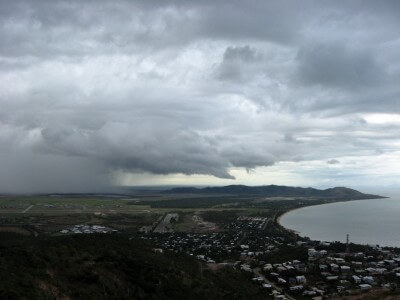 Townsville itself is – in my opinion – rather boring and not overly attractive. The main mall being a giant construction site didn't really help to improve the experience. Townsville is however gateway to Magnetic Island. As so many places this one was named by Captain Cook. He called it Magnetic Island because his compass showed an anomaly when he sailed past it.
The island was our destination on Wednesday. It can be reached by a regular ferry boat and is just 25 minutes away from the mainland. With its 2000 permanent residents it has several towns and a solid infrastructure. Magnetic Island features nice beaches and rainforest walks. Now I might sound a bit spoiled but after all the trips I did in Cairns and after all the beaches I saw there I'm getting a bit bored of that stuff.
On Thursday we went in the opposite direction towards the former gold mining town of Charters Towers. It's a 1.5h drive away from Townsville and on the way there I saw a road train for the first time.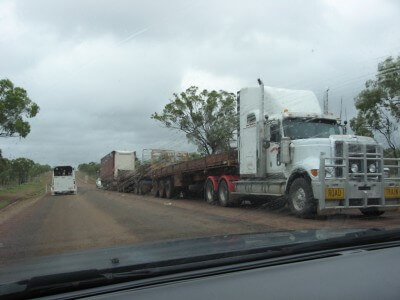 That's one hell of a big truck.
The weather dried up a bit when we arrived in Charters Towers and we went for a walk through the old part of the town. They still have a lot of really old buildings there and the place just feels different than the coastal towns.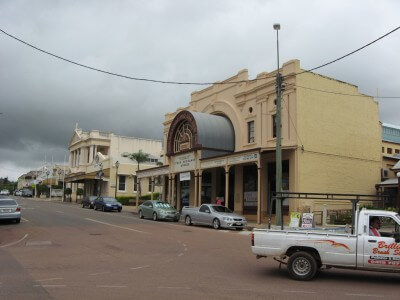 Back in Townsville the rain was back as well and with the tent and gear getting wet I got a good idea why my father doesn't like camping.
The car (we named it Johnny) proved itself very reliable so far. We've done about 2000km on it so far and it's a very comfortable ride. The engine is in good shape as well, running smooth and not using any oil.
Next stop: Airlie Beach