Friday Nov 12th, Day 5 of the road trip. We leave Townsville in heavy rain and hope to leave the bad weather behind. We are near Ayr, almost 100km south of Townsville when the rain stops for the first time. It doesn't stay dry for long though and when we reach Airlie Beach it's raining cats and dogs again.
Airlie Beach is the main starting point for tours to the famous Whitsunday Islands. That group of islands has beaches that are said to be among the most beautiful worldwide. I was eager to go there but the weather kind of killed the mood.
With the weather being totally unsuitable for camping we decided to check into a hostel for a couple of nights. Two guys from the share house in Cairns, Pete and Meri, work in a hostel near town and organised some beds in a dorm for us.
The weather remained unstable and we spent our time with cleaning and drying the gear or going fishing at the nearby marina.
The forecast promised better conditions for Sunday and thus we booked a Whitsunday tour for that day. While still in Germany I planned to do a sailing trip around the islands but those trips are unfortunately not compatible with my current budget.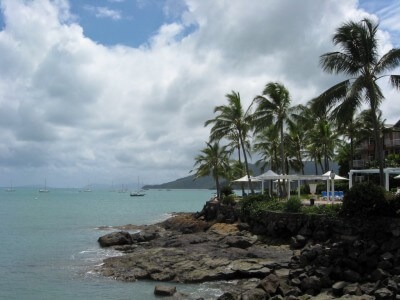 Instead we went for an ocean rafting day trip. The company running these trips bought a couple of rescue vessels and turned them into 60 km/h fast tour boats. Being twice as fast as regular boats they promise more time on the beach and in the water.
Pete and Meri booked the tour for the same day and we all got on the same boat. While we waited for the departure we saw an air acrobat doing some insane manoeuvres in the sky.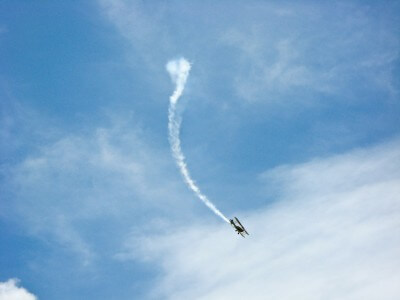 The ride on the boat out to the islands was good fun. Our skipper Jason apparently had a good time riding the boat on the waves.
Our first stop was an island 45 minutes from the mainland. All the islands have coral reef around them and we had an hour to explore the reef with snorkel gear and stinger suits. Looked quite similar to the reef I saw on the trips in Cairns.
The next destination was Whitsunday Island where we did a little walk up one of the hills to get a view over the famous Whitehaven Beach.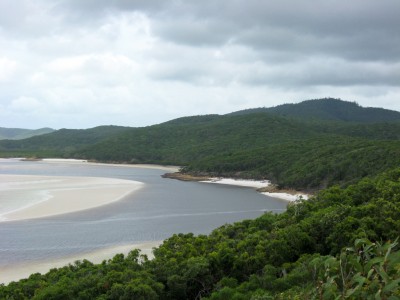 The sand on the beach is 98% silica which gives it an incredibly white colour. The pictures can't really show it but without sunnies you'd probably get snow blind on that beach.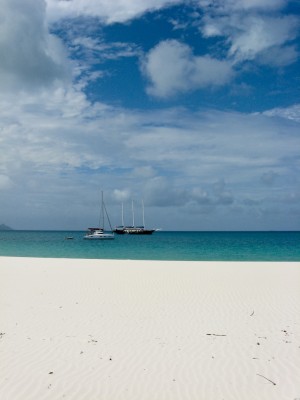 We had buffet lunch on the beach and about two hours to relax and enjoy it. After that it was back to Airlie Beach for us.
Ocean Rafting, if sailing's too slow for you