Monday, Nov 8. Early in the morning I drove my car to the department of transportation and main roads to get the coveted registration for my car. I had all the paperwork (application form, new customer form, RWC, CTP, sale bills, …) but still felt nervous as this was my first big encounter with Aussie bureaucracy.
Fortunately everything went smooth and my car is now registered to my name and eligible to travel Australian roads for the next six months. All lights on green for the road trip down the east coast.
We left Palm Cove in the afternoon and headed down Bruce Highway towards Brisbane. It's a ride of more than 1700km and we plan to reach Brissy in about three weeks. As a comparison, that's roughly the distance from Kiel to Rome.
As mountains and lush rainforest are still near the road, this is what our location for a late lunch break looked like (Babinda Boulders).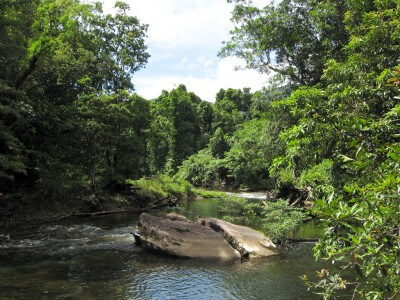 It was about 3pm when we left and as the sun sets at 6:30 we wanted to reach our overnight location not later than 5. With the car I got a book called "Camps Australia" that lists free or affordable camp sites all over Australia. We picked one called "Bingil Bay", a small council operated spot on the beach.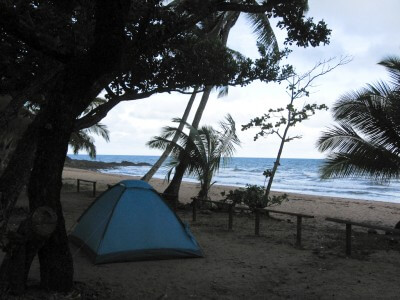 Now that's beach front accommodation!
Next stop: Townsville.
Bingil Bay Campground, not the nicest facilities but cheap and right at the beach.