5:30 in the morning, my alarm is ringing. Good thing my room has a window showing the sunrise over the Mekong – additional incentive for getting up. My bags are already packed (mostly), so half an hour later I'm ready for pick-up. Pretty much on time (for SEA standards) my lift arrives at the hotel and delivers me to the bus station.
The company looks considerably more serious than the jokers that took me for my first ride here in Vietnam. I have a smooth journey and chat with my neighbour, a chemistry teacher from CTU, who's apparently happy about an opportunity to practise her English a bit. The level of English in this country is generally low, thus I'm always pleasantly surprised when I encounter somebody with a solid grasp on the language.
10:00 am sharp the bus pulls into the station in the outskirts of Saigon. For the last bit of the ride I need a taxi to the airport and have a look for those of a company called Mai Linh. They have a solid reputation, unlike other companies, where the meter sometimes runs twice as fast.
After months in Asia I have seen a lot of traffic and the madness that comes with it. Saigon tops it easily, even though I haven't seen the inner city.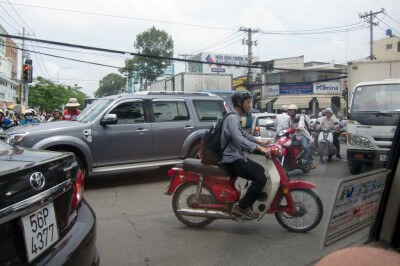 The short drive to the airport takes an hour and my chauffeur manages to drop me off at the wrong terminal. What's so hard to understand about "International? No! Domestic!".
I ask around on how to get to the right terminal and am told to take a taxi. I get into one and tell the driver my destination. "50,000" is his proposal, "Meter!" my reply. "Meter not good", he tells me, but quickly changes his mind when I attempt to get out of the car.
We're having a bit of a heated (for SEA standards) discussion a minute later, when he ignores the signs indicating the direction to the domestic terminal and instead drives another round through international. Easy to see he's trying to get the fare up. The last bit of sympathy I felt for that guy is lost. I know they're poor but I can't stand cheating.
We're having more fun when I hand him 50,000 to pay the 30,000 fare as he claims to have no change. That's ridiculous and a common trick that drivers are pulling to get more money. I have no intentions to give up that battle and tell him to wait a minute while I get some change in the terminal.
To my surprise he gets out of the car as well, telling me that he'll organize the change. That means he really didn't have any. Oh well, for 2-3 minutes we walk around, asking people to change the 50,000 (which is roughly the price of one warm meal).
Nobody is willing to change and I don't want to torment the little fucker any more, so I buy a drink from a kiosk and give him his money. The fuzz was just about one dollar but for me not being ripped off is part of responsible tourism. Anything else just ends in tuk-tuk drivers beating each other up over tourist money.
Check-in and security are quickly passed and I find myself a bench to practise an old Asian custom: Taking a nap. Asians sleep all the time and you can't really blame them. With 10-12 hours of work and no day of (!) you want to get all the rest possible.
The plane is boarded on schedule and around 1:30 we're taking off Saigon Intl. The runways here are not the best, feels like taking off a freaking dirt track. Some two hours later we reach Hanoi after a quiet and uneventful flight.
My stay this time is an "upmarket" hotel ($22/night) and comes with the perk of airport pick-up. Thus for the first time ever I have somebody waiting for me with a sign that has my name on it. Very comfortable, I'm really becoming a flashpacker.
Little Hanoi Hostel, in midst the action, clean rooms and incredibly friendly staff.