Can Tho is the capital of the Mekong delta and situated right next to a river. It's called the Can Tho river but as far as I can tell from the map, it's the Mekong waters flowing through here.
My hotel is right next to the river front and I could observe a bit of the river life. They have some form of water tuk-tuk here, dodgy little boats piloted by old women who are as pestering as their land-based counterparts. I probably have to hire one of these if I want to see the floating markets.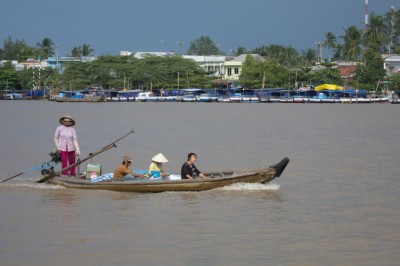 I met up with local couchsurfer Giang, who took me around the city, showed me the local eateries and helped me with my Vietnamese. I asked if I could  eat dog somewhere but she refused to help me eat something that cute. Oh well, maybe I go for snake instead. Or cat? Probably too cute as well.
This afternoon we took a boat to a small island some 5-10 minutes from town. Traffic on the river is heavy and I was amazed to even see a floating gas station.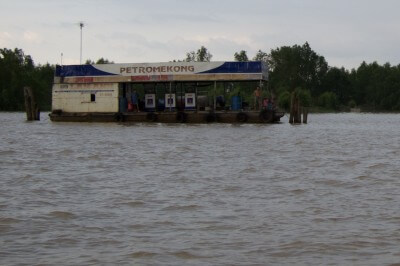 On Tuesday I'll be on a plane to Hanoi (have to get to Saigon somehow first) and did some research on where to stay. As I found out, Vietnamese fake everything, even hotels. For many of the hotels with good reviews on the internet and in the guide books, there is a place with an identical name somewhere else.
These places are mouldy holes with shit-poor service and the only way they get customers is because they pay high commissions to the taxi and moto drivers. In effect that means that I could get into a taxi at the airport, tell the driver the name of my chosen hotel… and end up at some crappy place somewhere in town that pays him to deliver me there.
The scamming goes on with tours to Halong bay (google it and be amazed), where fake travel agencies sell overpriced tickets for tours on dangerously dodgy boats.
As good a time as I'm having so far – by the end of my Vietnam trip I might be one of these not-returning visitors. We'll see.