Keeping with the biblical analogies, I think I've found the modern day sin pool. But all in well order.
The day started nice and sunny. In the air-conned breakfast hall, everybody was keeping to the shadowy side of the room. It was 30+ at eight in the morning.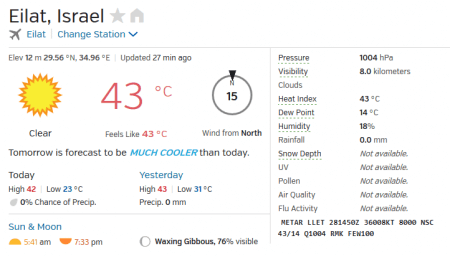 At around 9, my dive guide for the day, Moshe, picked me up and took me to the dive centre to gear up. Everybody was friendly and relaxed and when all of our group were ready to go, we drove south to a dive spot near the Egypt border.
With more than a year since my last dive, I went for the mandatory refresher dive first. Not much refreshing though, just some basic skills and then deeper for a regular dive.
The coral and fish we saw were nice but not nearly as plentiful as at other locations, for example the Philippines. Nonetheless it was nice to be back under water and good diving once I had warmed up (i.e. remembered how to keep properly trimmed and buoyant). Will bring the camera tomorrow and see if I can get some decent shots.
The dives in the area are all land-based, no trip on the boat required. Accordingly, we finished rather early around 3 in the afternoon. I waited out the worst heat and when the temperatures had dropped to the high 30s (around 7pm), went out to see the main beach and town centre.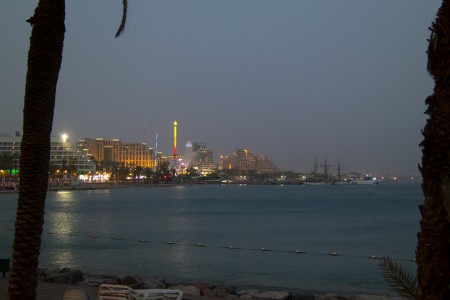 Which brings us back to the title of this post. Not that there is a lot of sinning going on in the biblical sense but apart from that, this is a temple to the idol of consumerism. I have seen a fair share of beach bumming towns but this one really is as shallow as a snorkelling trip. More an amusement park than a town. Really not my cup of tea – looking forward to more peace and quiet under water!