Saturday, we are not really surprised to wake up with wet feet in our tents again. Pete and Meri spent half of the night in the car after their tent capitulated to the heavy rain. There seems to be a pattern. When we stay in the tent it rains, when we stay at a backpackers it doesn't.
After the dripping wet gear is stored in the car we head for the next bistro to get some hot coffee. With some life back in our stiff bodies we head for Bundaberg. Or Bundy as the locals call it. Bundaberg is home to the distillery that produces Australia's most popular and equally named Rum.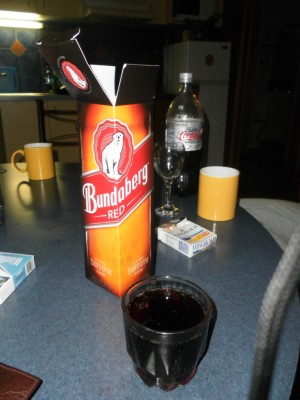 We intended to do a tour through the distillery but it would have been quite expensive and we decide to invest the money into the product.
Our station for the night is Hervey Bay, base for tours to famous Fraser Island. Fraser Island was supposed to be one of the highlights of the trip but with the weather forecast predicting nothing but rain for the next week there is not much sense in going there.
Finding a place to sleep is a little difficult again as a lot of travellers wait for better weather for going to Fraser. We manage to get a two bedroom "villa" at the YHA and have a nice evening with the Bundaberg distillery products.
Sunday starts with a little hangover and Pete brightens up the day with some artwork on the car.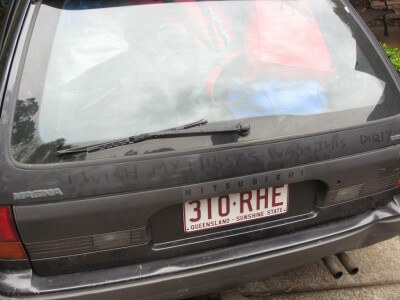 The car really is a bit dirty as nothing but rain has cleaned it for the last 3000 km. We are up for a relaxed day and just drive the short way down to Rainbow Beach. That place probably looks really nice in good weather but at the moment the 2000km from Cooktown to Brisbane are covered in one large cloud.