Friday Nov 19th, day 13 of the road trip. Refreshed and happy after a night in a real bed with a roof over our heads we leave Emu Park. My fellow travellers are going to visit a crocodile farm on the way. I have some work to do and drop them of there.
Before we left Airlie Beach I bought some mobile broadband equipment and can now use the internet at all places that have mobile reception. Finding such a place is still a little difficult in the rural areas but after a short drive with the laptop on the passenger seat I find a spot to set up my office. When I pick up the guys later I can't help the feeling they had heaps more fun than me. Those crocs look really nasty.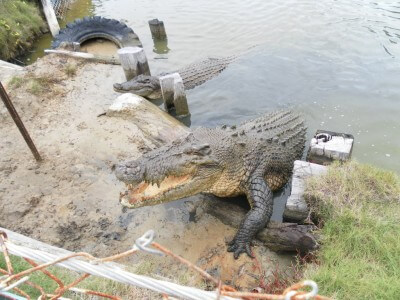 The weather is mostly dry for a change and after our lunch break near the highway we decide to give camping another try for the night. We set up our tents on a nice beach side camping place in the town of 1770. That's one of the strangest names for a town I've ever heard of.
When we drive to the supermarket later that evening I have my first encounter with the Aussie police. The cops closed the roads to treat every driver with a breathalizer test. They are doing that in a different way than the Germans. No questions asked, no checking your eyes with the flash light, just a short "G'day, take a deep breath and exhale in this tube please.". As we hadn't had any alcohol that night we could continue our hunt for food without problems.