Monday Nov 22nd. Day 16 of our road trip starts with sunshine and a beautiful blue sky. From Rainbow Beach we drive half an hour up to Tin Can Bay to see and participate in the daily dolphin feeding.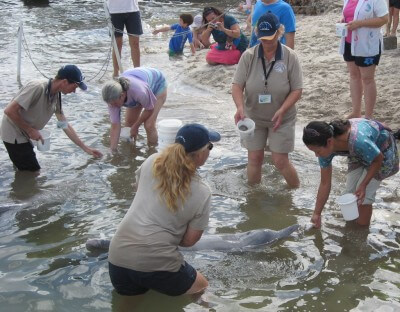 Our next stop was Noosa and the Sunshine Coast. The Sunshine Coast didn't really deserve it's name when we saw it. It was more like a "More-rain-than-during-an-average-cyclone Coast". We kind of were used to it and decided to make our way to Brisbane that day. At least the forecast promised dry weather for Brissie.
The closer we got to the big city the more I felt out of place. People were tailgating me, one jerk almost crashed me in a roundabout and everybody was driving fast. I felt like a country boy coming to the city for the first time. I guess five months in the relaxed Far North left some traces.
We didn't make it to the city centre but rather set up our tents at a caravan park 15km north of the CBD. Yes, camping, the sun was shining!
Since we left Cooktown we travelled more than 2500km and came from nowhere to the two-million-people city.