Today it was time for us to leave Mullumbimby. We had a really nice and relaxing time there even though the place was only quiet when the kids weren't around.
On Sunday we spent our last day on the markets in Byron Bay. They're held monthly and offer a wide range of local and international products. One shop even offered "Traditional German Bratwurst". I gave it a try and it really wasn't too bad. I can't remember being served bratwurst with sauerkraut in Germany though.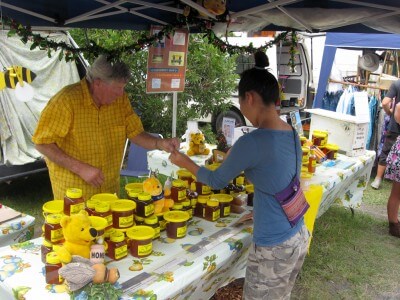 For the next two weeks or so Hiro and I are going separate paths. She needed to be in Melbourne as soon as possible to try to get a job for the Christmas time. That time is somewhat of a high season for spa and wellness so qualified massage therapists are hopefully in demand.
I'll continue the road trip and plan to reach Melbourne roughly a week before Christmas. We're hoping to find a nice place to stay so we don't have to celebrate Christmas in a backpackers.
After dropping her of at the Gold Coast airport in the afternoon I drove about 150km south to a town called New Italy. I felt like having some quiet time today and put up my camp at a rest area to spend another night in the car. It's not as uncomfy as it looks but I'll probably miss the nice bed in Mullum tonight.