Another adventure. Nakhon Si doesn't have any public transportation to the airport. My friendly helpers at the hotel organised a 'shuttle bus' for me but I wasn't happy with it. It was to leave town at 3 and the check-in for my flight would close at 3:30. No problem they told me, we are small city, everything relaxed here.
Well you can say about SEA what you want, but it works. Thus I decided to trust them and showed up at the pick-up point a little before time. The shuttle bus was an old Toyota sedan (515,000 on the clock) and besides me it was only a Thai couple going to the airport.
We reached Nakhon Si Thammarat domestic airport some 15 minutes later and I headed over to check-in. A cute little check-in that is. They have a manual scale there and when you drop of your luggage one guy weighs it and shouts the weight over to the counter. Ah, I love Asia.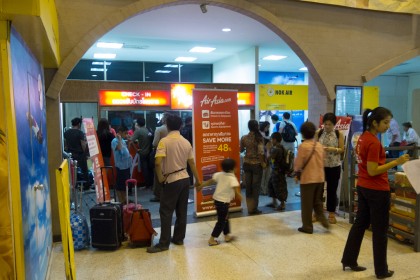 The airport has an hourly capacity of 300 passengers (sic) and a total of six flights per day are connecting it to Bangkok. Everything was fairly relaxed (a good sign after the recent bombings in the South) and when the plane was ready for boarding, people took a leisurely stroll over the airfield.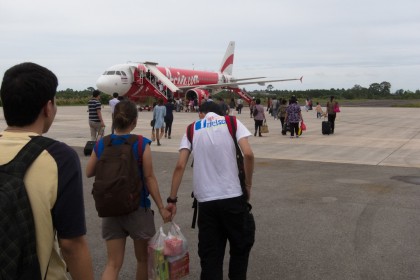 It's just a short 1h 15min hop over to Bangkok, leaving the cabin crew just enough time to sell some overpriced duty free junk. The weather was nice and clear but when we started descending we dove into a massive cloud of polluted air. It reaches from BKK to the ocean and several kilometres up into the air.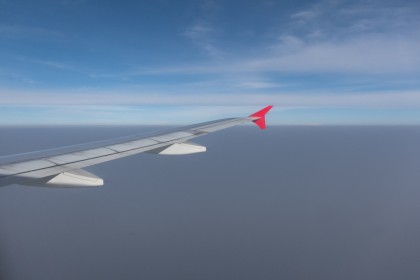 It actually looked a little more yellowish but the photo gives the general idea. Didn't look much better on the ground.