With daytime temperatures in the painful range, it's worth it to get up early and do the outdoorsy stuff before it gets too hot. Couchsurfer Czharina joined me here in Bangkok and yesterday morning we went to do some templing.
The central pier is just a short BTS ride from the hostel and taking a boat to the temple area beats being stuck in traffic by far. Bangkok's Chao Phraya river is served by ferries that are frequent, cheap (unless you end up on the tourist boat…) and most of all, not affected by rush-hour.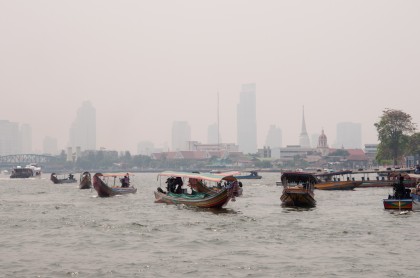 First stop was Wat Arun, famous for providing 360° views over Bangkok to those who dare the climb. Have a look at last year's post for a video from the top.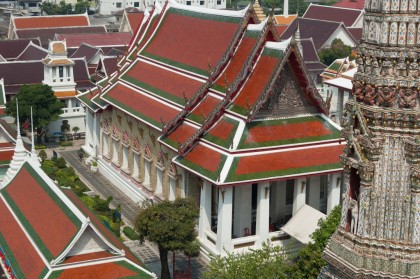 The ferry takes us back over the muddy old river to Wat Po with it's reclining Buddha. Covered in golden paint and really really big.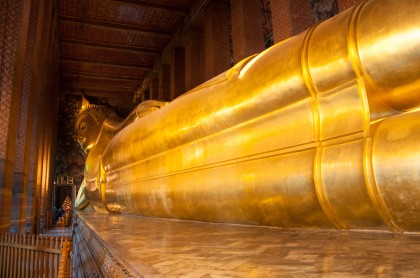 Walking around becomes uncomfortable in the heat and we get a taxi to the train station. The drivers are still not keen on using the meter and the first one quotes us 200 Baht for the ride. No point in doing business with people like that. An honest driver takes us there for 70 Baht not much later.
Mid-day is best spent in air-conned areas, be it the hostel or shopping malls. Oh and with eating of course, street food still rocks. In the evening we come across a 'roadside restaurant' that has whole fishes on the BBQ and a tempting menu.
Eating there is not a 'nice' dining experience in the traditional sense. Yet it's still amazing in it's own way. Sitting on plastic chairs, metres from the road with all the Bangkok chaos and on the plates delicious, simple food.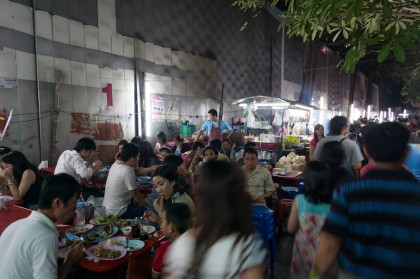 Bangkok has been an interesting experience once again. It is the chaos, the endless impressions and the non-European-ness that I like about it. Yet the downsides are ever-present as well. Silom seems to have gotten filthier since my last stay and every two metres I am offered ping-pong shows, women, DVDs and the like. As a tourist you are really under heavy fire here.