The south was discovered and I wanted to have a look at the more remote north of Phu Quoc. My favourite travel agent helped me to the usual transport and on late Wednesday morning I was on my way. Surprisingly the road north is in very good condition and stretches seemingly endless through the countryside.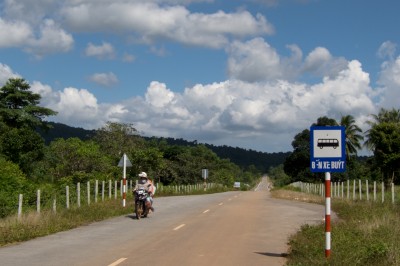 Usually that's the kind of road to change to highest gear and under slight disregard of the speed limit seek an end of boredom. That's not an option when riding in shorts and shirt though und thus I got some easy rider feeling with 100cc under my butt. It's got to look funny when I ride one of these things, they are so small that I usually sit on the rear seat.
The highway had an end at some point and it was back to dirt-track. The road leads along the north-west coast of the island which is basically an endless, deserted beach.
Farther north is a small fishing village. There is nothing romantic about that though, just some tin sheds for the people to live in. The place might look like paradise but I doubt the people feel like they're in heaven. Even basic medical care is about an hour away here.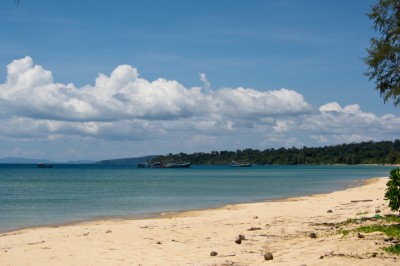 The far end of that picture shows the coast of Cambodia. Phu Quo is actually closer to Cambodia than to Vietnam and the country claims it as part of its territory but Vietnam doesn't really care about that.
On my way back I wanted to stop at the market in Duong Dong to grab some waffles (another French heritage). The road leading there from the north is… different.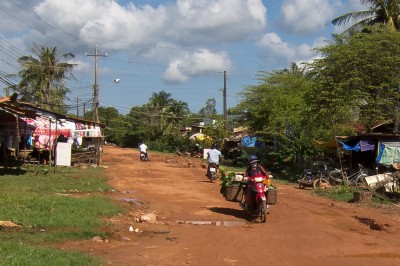 For the evening Celine, my couchsurfing host, invited me to come along to a poker game that another Frenchie in town was hosting. His bar is one of the few places to remain open after midnight. And as I soon discovered, it's also one of these places where a bunch of single Asian women are sitting around, waiting for guys with white skin and green dollars.
As I was in female company I didn't get much attention and we went straight to the game. It was set up right in the middle of the bar room, no smoky back room necessary. I don't know if gambling is legal in Vietnam but I doubt any police guy would know what poker is.
Buy-in was 300,000 and with five of us playing we had 1.5 million on the table. Good thing the Vietnamese Dong (VND) is 20,000 to the dollar, made the game affordable for me. Except for Celine (poor her) everybody had a clue of poker and the common playing style was loose and aggressive.
It took me a moment to get used to the environment. Playing poker in a place with loud music, blinking lights and hookers around was new to me. We played for a couple of hours and in the end I had supported my travel budget by more than doubling my buy-in. Interesting experience.
Tomorrow I'm on a boat to Can Tho, the Mekong delta is calling.