Finally, internet access! The power outages on this island are as frequent as the nightly monsoon downpour.
Yesterday we went to discover the south of the island with Sao beach being our main destination. It's only 25km away but the roads are in a disastrous condition, parts of it dirt-tracks with more pot-holes than solid parts. Driving a motorcycle is actually better than driving in a car as the latter doesn't have much options in avoiding the holes.
We reached the beach within an hour and it certainly was worth the bumpy ride. People say it's the nicest beach on the island and I believe that.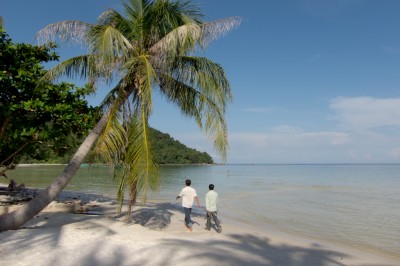 Next destination was the southern harbour of An Thoi. The road got a bit better and traffic increased. It was still easy to drive though, there is barely any cars on the island (except for taxis) and it's mostly motos frequenting the streets.
I admire Asians for their driving and balance skills. A family of four on a scooter is almost basic, today I saw somebody transport a tumble dryer. On average there is two people sitting on a moto, the one on the back usually hands full with groceries and other stuff and still managing to have a smoke.
In An Thoi we parked our vehicles and explored the surroundings on foot. It's a lively little town and it clearly sees less tourists than Duong Dong, where most of the resorts are located. Somehow I always stick out.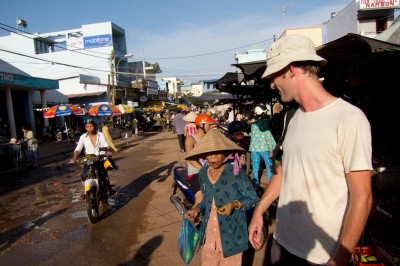 I'll probably leave the island by the end of the week but I have yet to come up with a plan for the rest of the month. As nice as Phu Quoc is, staying here for too long and not seeing anything else of Vietnam would be a shame.