After leaving Phu Quoc, I had a couple of hours in Ha Tien before the bus to Can Tho departed around noon. The first part of the journey led along the Cambodian border up to Chau Doc. The road was a mess and for two hours the minibus basically jumped from one pot-hole to the next.
The area on both sides of the road was heavily flooded, sometimes the water reached as far as the eye could see. Vietnam is experiencing the worst floods in a decade. So are many countries in the area, Bangkok is about to get swept away.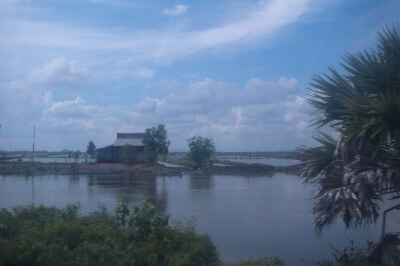 In Chau Doc I had to change minibuses. The road got better but the ride got worse. The driver was plain mental, driving up to 100 km/h in the city, horning his way through the masses of motos and pedestrians. I wasn't really concerned about my own safety but with a driving style like that it's just a matter of time before somebody on a moto will get hit and killed. Fortunately the idiot slowed down at some point and for the most part of the journey drove normal (for SEA standards).
It was after dark when I reached Can Tho and went to get myself a hotel room. The city is not a big tourist hub so it was easy to find something decent. They have some floating markets here that I want to explore. Unfortunately they start very early, have to try to get up before six tomorrow.