Once again, time to get up early. My taxi was to pick me up at 6:30 and I needed some time to enjoy one of these Vietnamese coffees. The ride to the airport was shorter than expected and I arrived half an hour before check-in opened. That's something new for a change, usually I queue up half an hour before they close.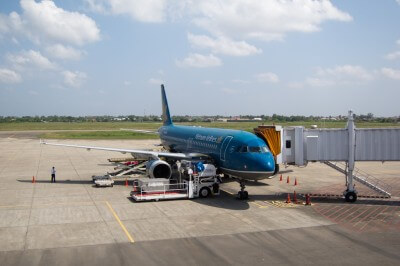 There was still a million and a half VND floating around in my wallet so I utilised the time to have a look for an exchange booth. All the bank-operated places were closed, so I asked at the official tourist information. They told me they could sell me USD but the rate was less than favourable. I decided to wait till the proper places opened and went to check-in first.
As soon as that was done I asked around for exchange rates and was quoted everything from 22,500 to 24,000 VND for a dollar. With the official rate around 21,000 that's not really a bargain. Mind you, all these places are run by banks but that doesn't seem to stop the employees from trying to rip me off. The last booth finally offered me a fair rate.
I spent the time till boarding with the usual combination of walking around and taking a nap. My carrier this time was Vietnam Airlines and even though that sounds a bit dodgy at first, they are a proper airline with a fleet of newish Airbus planes. In fact, the plane I boarded looked much nicer than the worn-off Malaysian thing Jetstar put me in on the flight into Hanoi.
Flying from Hanoi is so much fun, with the bumpy runway the turbulences start before take-off. The flight was quiet and once we had left Vietnam behind, the weather cleared and I got to see Laos from above.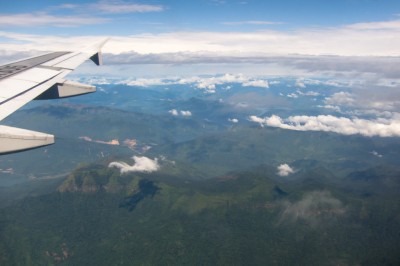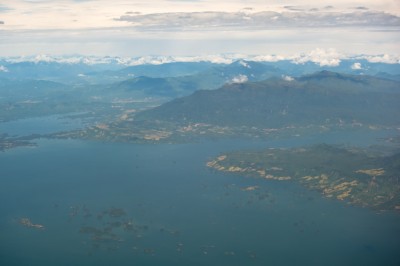 After arrival at Vientiane's Wattay Intl. I spent about half an hour with getting a visa on arrival. One counter with three officials versus half a plane full of tourists. I expected that though and didn't really bother as getting a visa in Hanoi would have taken way more time. The officials surprised me by being friendly and smiling – haven't seen that before.
From the airport I got a taxi into town and found a decent place to stay at. Vientiane is definitely the most relaxed SEA capital I've seen so far but the rates for accommodation are similar to those in other cities.