Since of last Thursday I work as a car detailer for a small car rental company here in Cairns. Getting the job was quite easy in the end. On Tuesday I spread my CV over the car rental companies in the city, on Wednesday they called me and the next day I started.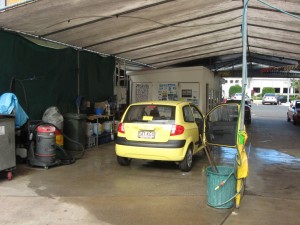 Working as a car detailer means I clean up the cars that customers return, drive cars from the airport back to the shop, pick up customers at their hotel and the like. Pays me $15 an hour cash on hand (I guess the Australian taxation office wouldn't approve of that) and is quite easy.
The first day I started off with "German working speed" but after cleaning the second car my boss told me to take it easy, no need to hurry. That came as a surprise, he pays me by the hour and still wants me to take it easy. I love Australia!
I start at 7:30 in the Morning which is not really my favourite working time. It's not too bad though cause over the last weeks I got used to getting up around 7-8am. Just gives me more of the day as the sun sets around 6pm.
At the moment I'm doing 4-5 hours a day and I was told that they'd need me for about one month. Doing the hours pays for accomodation and food but saving money will be a little hard. I'm looking for an afternoon job at the moment. But as long as I can stay up here in Cairns for the winter I'm happy.
Next week I'll move into a share house with Florian as my roommate. With $100/week that's going to be much cheaper than the hostel. The $26/night I'm paying there at the moment are really killing my funds.
Right now I plan on staying here in Cairns over the winter and head south somewhen in September. I'd like to do a road trip down to Melbourne with stops in Townsville, Brisbane, Sydney and other nice places along the way. It's about 3500km and it'll probably take me about a month to get down there and see some stuff on the way.
If you are looking for a backpacker job in Cairns during the winter: be creative. Every advertised position will have dozens or hundreds of applicants and those with skills or experience will score the job. If you can't utilise the skills you have, find jobs that are not advertised. By walking into every single car rental company for example.