Most important thing to know about buying groceries in Oz is: They are eeexpensive here! Being used to the subsidised prices in the European Union, the first visit to an Australian supermarket kind of made my eyes water.
Here are some examples for the cost of every day products.
– Mushrooms (1kg) $10
– Onions (1kg) $2.5 – $3
– Capsicum (1kg) $5
– Apples (1kg) $3 – $5
– Bananas (1kg) $2.5 – $3.5
– Bread, halfway decent (1kg) $4 – $6
– Jam (500g) $3.5
– Spaghetti (500g) $1.6 – $2.6
– Flour (1kg) $2.5 – $3
– Milk (2l) $3.5
– Cheese (500g) $6.5 – $9.5
– Minced meat (1kg) $9
– Steak (1kg) $15 – $20
– Chicken Breast (1kg) $15.5
Those are prices you pay at a big supermarket like Coles or Woolworth. I haven't seen anything like ALDI or LIDL here in Cairns. Vegetables and fruits are a little less expensive on the local fruit market. It's open Friday to Sunday and shortly before they close you can make some good deals like a pineapple for $1 or a kilo of bananas for $1.50. When I'm done writing this post I'll go there and buy my supplies for the next week.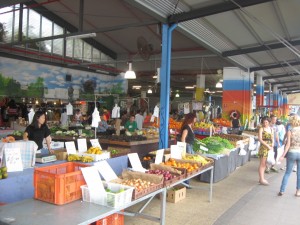 Good thing about buying food is that the supermarkets are open every day. Ran out of bread on Sunday? No worries, Coles is open till 6pm
Many backpackers mainly feed on instant noodles and rice to cut their cost but I enjoy eating way too much to do that. I probably spend something between $50 and $100 a week for food and drinks (read wine) and am pretty fine with that. My diet is actually more healthy than in Germany as I don't buy stuff like chocolate anymore but instead have a kiwi or banana if I feel like eating sweets.
Rusty's Markets, Spence Street. Best deals on vegies Sundays between 1:30 and 2 pm.