At the moment I'm staying on a small farm near Yass, about half an hour north of Canberra. It is actually more a riding school and pet care than a farm. I'm a voluntary worker which means I get food and accommodation in exchange for work (more info on helpx.net).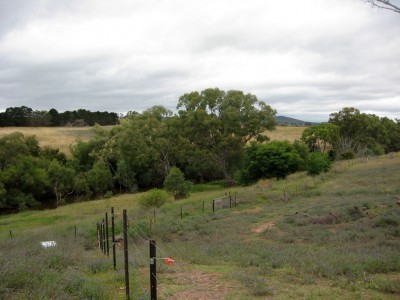 There is four of us helpers here in total and I spent the last two days with a Swiss/Irish guy repairing electric fences. It's really nice to do some physical work after all the slacking around in Katoomba (not a complaint) and so far, even though it's exhausting to dig trenches, it's more fun than work. Especially driving around on the quad or tractor. Can't wait to try the dirt bikes.
Hiro is back in Byron Bay now. Our travel plans for the future were not really compatible, her way leads to Asia and a longer stay in India, mine to another year in Australia and/or New Zealand.
I'm planning to do three months of farm work in total which would allow me to apply for a second working holiday visa. There's no detailed plan for the near future, all I know is that I want to be in Adelaide in early March to visit the Soundwave Festival, my chance to see Iron Maiden live.