There is something pacifying about horses. They spend 15-20 hours a day just eating. The rest of the time they are standing around or have a short nap.
Having had the recent nice experience in Serbia, I organised a continuation not much later. Searching the internet for horseback riding in Montenegro brought up a good result, and a few emails later I had booked a few hours of riding for this Sunday afternoon.
This time I didn't just want to ride around but also learn a bit about how best to "behave" on horseback. How to sit, how to move, that kind of stuff.
The "ranch" is a little outside of Podgorica and it took about 20-25 minutes by taxi to get there (8 Euro, cheap country this Montenegro). Soon after the city limits the landscape opened up to a breathtaking mountain scenery. Once we had left the main road and started driving up, it got more and more stunning by the minute.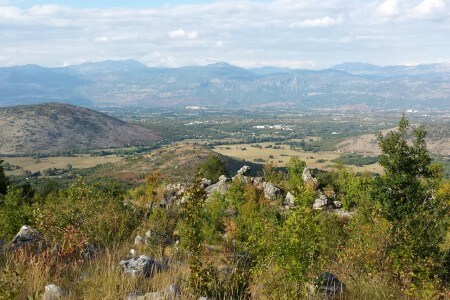 At the ranch I was greeted by instructor Jann (guess the gender!) and after the paperwork and a few rounds in the paddock, we went next door for the "trail riding practise ground". Trail riding requires a little skill in order to be fine on ascents, descents or when ducking under branches.
That all went well and we headed out onto the proper trail. Did I mention the magnificent landscape? Usually I'd go hiking in an area like this but on horseback it's definitely more fun.
Initially I was a bit concerned about the somewhat steep and rocky declines but the horses have experience and as long as one manages to remain vertical, all is well.
We had a break at the halfway point – water, cookies and great views.
I think I could do this more often.