As a tourist in Chiang Mai one can learn a lot of things. Thai massage, Buddhist meditation, Muay Thai and cooking Thai dishes. After feasting on all the delicious stuff for the last couple of weeks I decided to get an idea of how to cook it myself. The cooking school I chose is a small family run business close to town and the owners picked me up this morning.
We collected two more participants and then went to a local groceries market. Host Vannee bought some ingredients for the dishes we were going to cook later and also gave us some information about the different veggies and herbs. Important fact about peppers: The colour doesn't really matter but the smaller they are, the meaner they are.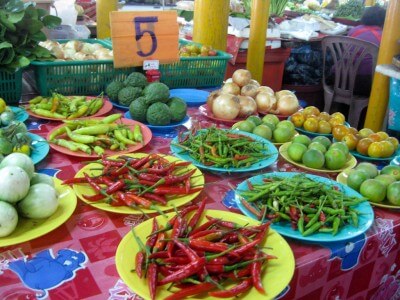 The first thing we were going to cook was a curry. As a proper curry starts with a curry paste we had to prepare that first. Chillies, garlic, Chinese ginger, cumin seeds, shrimp paste, turmeric and some other spices get pounded in a mortar and out comes a tasty and pretty spicy paste.
The curry turned out nicely and next on my list was chicken with hot basil leaves. According to Vannee, Thai people love it so much they could eat it every single day. It sure is nice and tasted as yummy as it looks.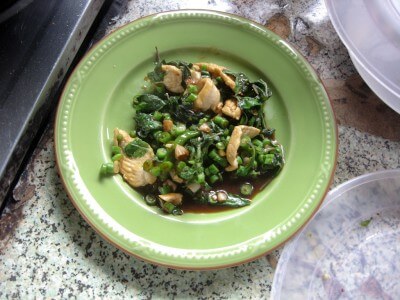 After that I made one of the tourists favourite, Pat Thai, noodles with tofu, egg and peanuts. Sounds a bit strange but it's really enjoyable. My fourth dish was Tom Yum Gung, a sour spicy prawn soup. Hiro and I had made it before in Oz but always with some of-the-shelf paste to start with. This one was from scratch and naturally a tiny bit more tasty.
We sat down for lunch break and ate all the goodies we had cooked up so far. Deeeeelicious!
In the afternoon we had another two dishes on the menu. For me it was a spicy glass noodle salad (interesting) and spring rolls. I've tried to make them myself a couple of times but never was really convinced with the results. With Vannee's professional advice these finally became a success.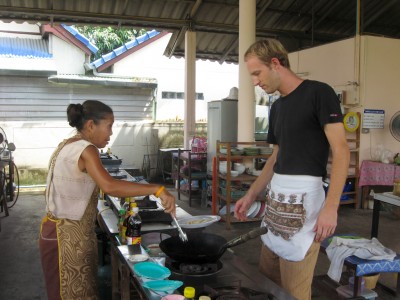 When the course was finished we all got a little recipe book with authentic Thai dishes. I'm eager to try more of them out but at the moment we don't have a kitchen (few guest houses in Thailand do) so that'll have to wait till Germany.