The two nights at the bungalows were simply amazing, thanks to a great location, a gifted host, friendly locals and a pleasant group of other guests. We headed back to the city as Samart had some business to take care of (no wifi in the countryside) and I had offered to help him with his websites and other computer stuff.
When the work was done we went for another local food experience (Chiang Mai food is very different to Thai food) and on the way got caught in the usual evening shower. The canalisation around here often has trouble with dealing with the monsoon water amounts.
After two nights in the city we drove back to the bungalows. This time an English and a German couple came along, the latter couchsurfers like me. I tried to figure out were exactly the village and the bungalows are located but google maps fails to find anything beyond Mae Wang where once again we stopped for supplies.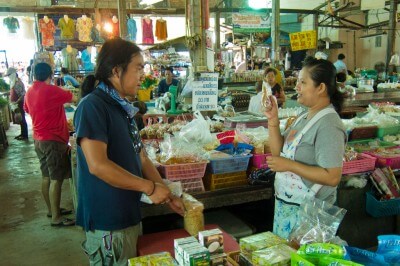 Back at the place we got a warm welcome from Samart's workers. Don't know if they were more happy to see us or the holy water we brought along. Doesn't really matter, I certainly was happy to see them again as their friendly nature makes it very easy to get in touch and see what everyday life in Thailand is like.
I gave the guys a hand when I could and they showed their appreciation with smiles and holy water. Most days I got up before the other guests and had breakfast with the Karen. No toast, no muesli, just rice with chilli-bean paste. No need for coffee after that.