Being surrounded by lush rainforest and picturesque valleys I was eager to do a bit of walking. On Saturday I joined forces with Tom and Cathy to explore a waterfall roughly an hour away from the bungalows.
The first part of the way is a 'road' that is used by local farmers. Road means it's wider than a footpath and firm enough to drive it with a motorcycle. After roughly half an hour we reached some rapids that we followed into the jungle. Walking got a bit tougher here as the way led up and down and sometimes over wet rocks. You can say what you want but walking through a humid rainforest when it's got over 30°C is something different.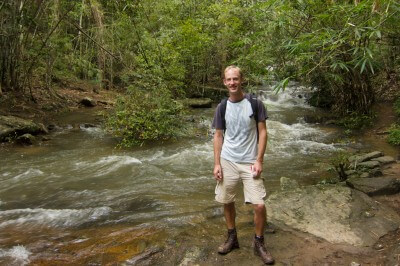 The path followed the rapids for another 20-30 minutes but still there was no proper waterfall in sight. Just a couple of water buffaloes. Tom was eager to go for a swim though and thus we kept walking. After a while the jungle cleared and we saw a couple of huts surrounded by rice paddies.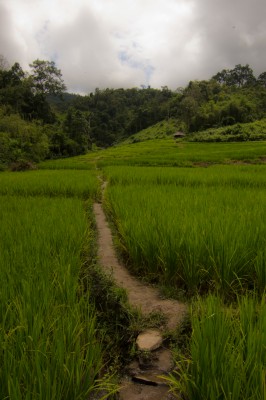 Walking through there I could see close up how the irrigation system works and how basic but solid it is. When we turned around the next corner we heard a promising roar and saw the awaited waterfall. Tom apparently had a good time in there.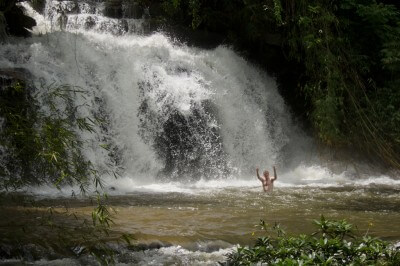 We spent a while there but upcoming rain clouds hurried us to get on the way back. No need to experience a monsoon shower on a muddy footpath in the jungle.
The day didn't bring much rain, but when night fell a thunderstorm came over the mountains. When you sit in a bamboo hut that is a slightly intimidating sight. Maybe not intimidating but certainly humbling.