Nothing takes the fun out of camping more thoroughly than rain. Once again we awake to the sound of drops falling on the tent. We have some routine in taking down the tent and packing up the gear by now and before 10am we are in the car and heading down the A1 towards Rockhampton. Or Rocky as the locals call it.
We make our first stop 25km before Rockhampton at a place called Capricorn Caves. The privately owned limestone caves are available for guided tours and we take the opportunity to get away from the rain.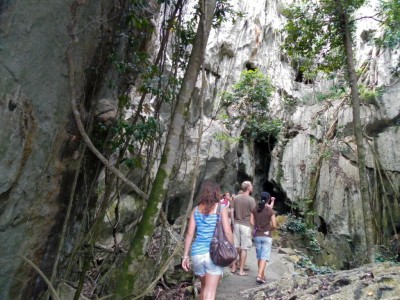 The cave system has been open to visitors for more than 120 years. In the late 19th century a Norwegian guy bought the land from the government. He was clever enough to hide the caves from the land inspectors and got the lot for a dirt cheap price.
As the caves are inhabited by bats the whole ground is covered in guano. Or bat shit. Fortunately it has been compressed by thousands of feet in the last century and doesn't smell, look or feel like shit any more.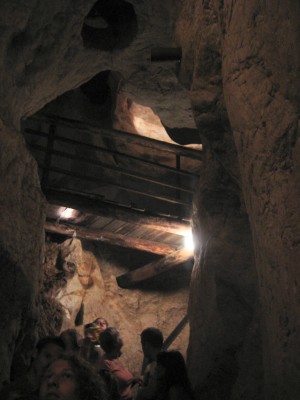 The first owner of the caves build a lot of bridges and walkways that are still used for today's tours. One of the tours highlights is a place called "The cathedral". The big cave has been equipped with benches and has an acoustic that is similarly perfect to the Sydney opera house. The venue is available for weddings and every now and then an opera is held there.
On the way out of the caves visitors have the option of going through a narrow passage called "The zig zag". Not suitable for people with claustrophobia.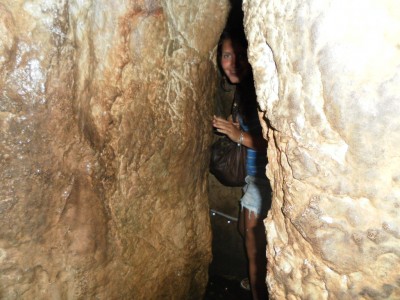 Once back in the sunlight- well at least under the cloud covered sky – we continue to Rockhampton and decide to stay there for the night. Turns out to be difficult as the bad weather made heaps of travellers stay in the cities and all the decent hostels in the city are booked out. Camping is not an option with the rain still pouring down and after a lot of calls we find a place with availability in a village called Emu Park 45 minutes east of Rockhampton.
Turns out we were somewhat lucky not to find a hostel in the city as that place is probably the nicest hostel I've ever seen. Looked more like a hotel and our 4-share room is equipped with bathroom, fridge and TV.
Next stop: 1770
Capricorn Caves, suitable for every weather.
Emus Beach Resort, a hostel that looks like a hotel.