Nakhon Si has been a very offbeat experience so far. Hardly anybody speaks English, only some of the hotel's reception staff do. Yet to get around town and buy food and drinks my Thai is sufficient and it's actually fun to have need for it once.
The hotel I am staying at is located off a small street that turns into a buzzing little market during day time. They also have a market IN the hotel. Floors 2 and 3 are a clothing department, never seen something like that before.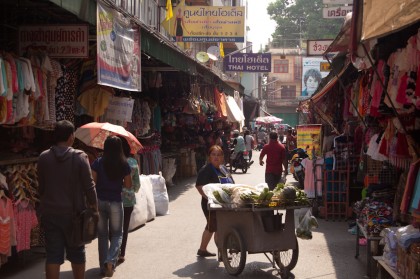 One of the attractions in the area is the Khao Luang national park, including southern Thailand's highest mountain (1,835 m). There is said to be some nice hikes and waterfalls and I wanted to have a look myself.
Yet getting there was more difficult than expected as I only had some rough directions from the internet and communication was complicated as well. I found out that the easiest way to get there would be a Songthaew to a village called Khiriwong.
The hotel staff gave me some directions but I wasn't sure whether they'd really get me where I wanted to go. Yesterday I had seen a 'tourist information' nearby and went there to confirm the directions. The friendly lady there did not only that but also took me across the street to where the Songthaews depart.
The ride took about 40 minutes and the driver dropped me of near some temple. It was about time for lunch and I utilized my bits and pieces of Thai to ask for the nearest restaurant. Friendly locals pointed me to a place near the river and I got some fried rice with prawns. The food was ok but the view was really nice.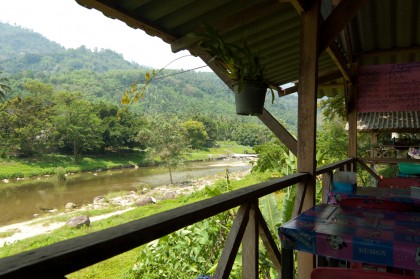 I didn't manage to get any directions to a waterfall and just went for a walk around the village. It's a relaxed place, unusually clean for SEA standards, and even has a little internet cafe. In hindsight I could have just used that to get more information on any waterfalls but the heat made thinking difficult. The thermometer showed 34° and it wasn't even noon. Thus I decided not to venture too far.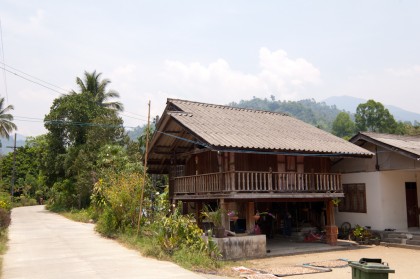 When I was back in Nakhon Si a few hours later I headed over to the train station to check availability for the overnight express to Bangkok. Booked out till the end of the month, guess I have to find another way to get up there.