Today I woke up to the sound of rain drops. Sleeping in a car definitely has its advantages. By the time I had decided to get up it had stopped raining. After saying goodbye to my kangaroo neighbours I was on the road again.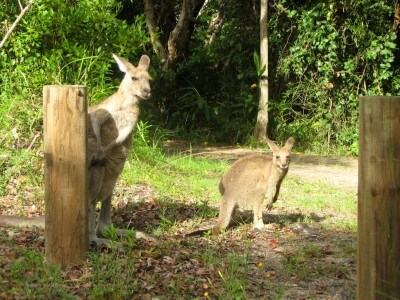 My destination for today was the Hunter Valley near Syndey. It's famous for its wineries and I intended to stay there for the night before driving into the big city. Tonight I wanted to stay at a place that has a shower, didn't have one since Sunday.
The local YHA sounded good and I arrived there around half three. The valley was a bit of a disappointment for me as I had expected something like the Rhine valley in Germany. Instead it was just a big flat place.
The reception at the YHA was closed till 5 and I decided to hang around till then. I changed my mind half an hour later when I was bathed in sweat and the rooms didn't look like they had an air con.
By now it was too late to head into Sydney and I searched the Camps Australia book for a good place to stay. My choice was the Freemans camping ground in the Munmorah State Conservation. I arrived an hour later and found what I was looking for: A shower! So good.