Wat is the Thai word for temple and being a Buddhist country Bangkok is full of them. Today I had some of the most famous ones on my list. In walking distance from the hostel is Wat Phra Kaew, home of the Emerald Buddha and part of the Grand Palace.
While walking there I constantly had to get rid of tuk-tuk drivers. A common scam in Bangkok is a very cheap or even free ride to some allegedly famous Buddha or temple. Where one ends up is a remote location with overpriced shops – the driver gets a commission for dropping of people from the shop owners.
I managed to arrive safely and with all my belongings at the Grand Palace. Due to some public holiday part of it was closed but the rest was admission free in return. Not too bad. The buildings in the palace make a catholic church look like a garden shed.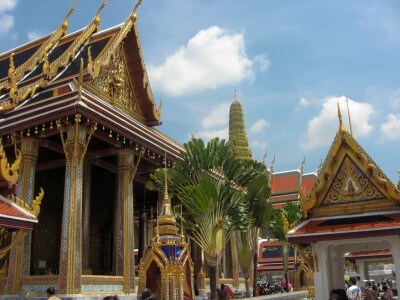 Visitors to the temple have to obey certain rules. First one has to enter without shoes. Secondly one has to avoid sitting in a way that makes ones feet point towards the sacred statue. With the feet considered to be the dirtiest part of the body that would be highly offensive. Most people simply sit on their feet or next to them in a mermaid position.
Next stop was the nearby Wat Pho, Temple of the Reclining Buddha. It's main attraction is a 46m long and 15m high statue depicting the dying buddha.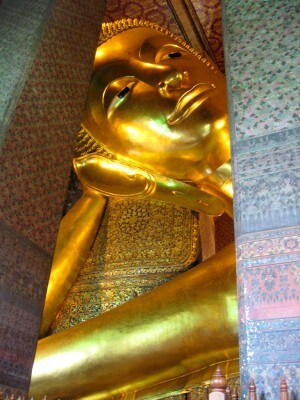 With heaps of tourists taking pictures not really a relaxing place. The rest of the temple was much quieter. In general the temples are oases of peace and quiet in the noisy and hectic city.
From the temple I made my way towards the river. Not without stopping for food a couple of times, it's just incredible how cheap and tasty everything is. I try to avoid the stalls that store their meat unrefrigerated though… Fish anybody?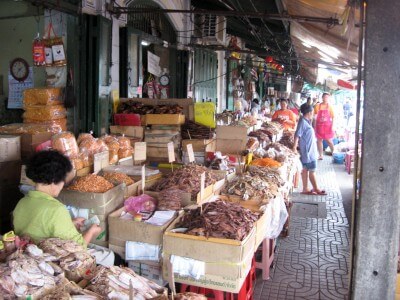 Last stop for the day was Wat Arun, known for its 85m high tower. It can be conveniently reached via a river ferry. From its top one has a nice view over the Chao Phraya river and the old part of Bangkok.
The way up there is not half as difficult as the way down. Back on the other side of the river I finished my day with a stroll through all the streets and alleys that lead to the hostel. It's busy, it's chaotic and certainly not boring.