On Monday I paid the Vietnamese consulate in Frankfurt a visit. The address: Villa Hanoi, Kennedy-Allee. That sounds awfully wrong but at least Kennedy was kinda pre-war. The consulate was pretty busy and I had to wait a while before I could hand in my paperwork.
'Ok, come back next month to collect passport', I was told. 'Ah hang on mate, I'm only in town for today, any chance you have an express handling?' I replied. They did have an express option and it only cost EUR 24, raising the total cost of the visa to EUR 88. Socialist republic my ass, they're hard-hitting capitalists.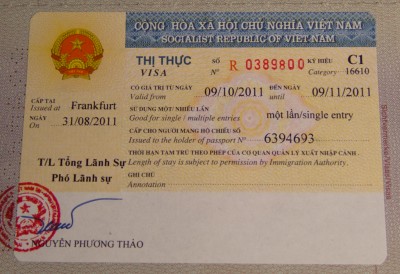 An interesting thing about Vietnam is, that they use Latin alphabet. That should come in handy with street signs and buses. The Vietnamese language is still a tonal language which is why they have more diacritics than the French.