It's a starlit sky. And I mean STARLIT! Milky way and everything. I haven't seen a sky like that since the beaches in Far North Queensland.
The weather is still mild and we start the night watch with a few minutes of star gazing. Everything is quiet and we adjust sails and brace yards. It's a nice team in the watch (just one lazy asshole) and my brother as watch lead teaches us a little more theory.
Halfway through the watch we are closing in on a pack of fishing boats. I'm third lookout and the sea ahead looks like a christmas tree with blinking lights moving around. Keeping course would be too dangerous and captain and second mate decide to set a new course that takes us around the wild bunch.
Changing course means adjusting sails and we get a fair bit of late night exercise. When the watch ends at 4:00 am, I'm falling asleep standing. We sit in the mess for an "after-work" beer/breakfast but soon my bunk is too tempting and I say goodnight.
At 11:00 it's wake up call for my watch and I start the day with lunch. Bit like the teenage years, when I spent all night in front of a computer. Lunch is once again outstanding – brisket of beef with mixed vegetables and horseradish sauce.
Today we have the sea to ourselves and during first rudder I don't have much to do. The ship is still running on engine but we have set a fair bit of sail and set a couple more in the next hours. Nothing's too busy and there's time for a scenic view from above.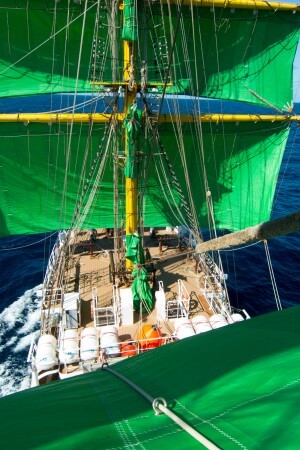 The 4-8 watch is ambitious and wants to shut off the engine. The course is slightly altered to get the wind more from the side and by now we are doing five knots under sail. Captain says that's fast enough. Once we are around Cape Finisterre the wind should come pretty much straight from the side, which would be ideal sailing conditions.
Tomorrow I'm on pantry duty and will be free of regular watch duty. Getting up at 6:00 rather than midnight sounds fairly tempting.