Tourism in Pokhara and Nepal in general was badly hit by the aftermath of the 2015 earthquake and the following Indian border closure that resulted in a severe lack of gas, petrol and many other things needed during winter time.
These days, parts of the main tourist area in Pokhara look like a ghost town. Restaurants able to seat a hundred guests are empty all day round and bars blast their music at a handful of patrons or none at all.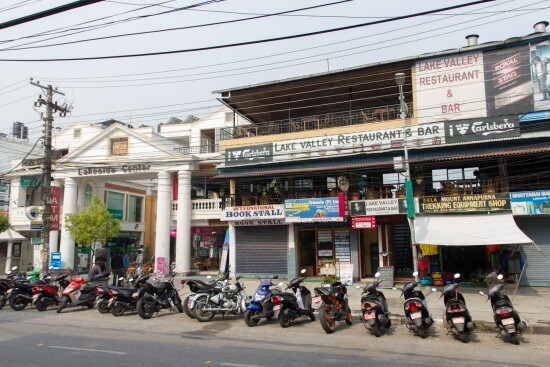 Given that lakeside, the aforementioned touristy area, doesn't see many locals (except in staff roles), a lack of visitors is probably threatening many an existence.
That being said, whoever has a stake in that endless array of restaurants, bars, cafes and shops that sell local products for ridiculously inflated prices, likely made a shitload of money during the good years.
Every touristy place in Asia has an area like that and they all have one thing in common: Mediocre quality at greatly inflated prices. It always baffles me how people travel halfway across the globe and then stay within a five-minute radius of their hotel.
In case of Pokhara, walking up the main road makes prices drop to to a quarter of what lakeside charges and restaurants and tea houses are filled with locals. Awesome!
Despite lakeside road being firmly in tourism's claws, the actual waterfront is surprisingly mildly developed. Countless bamboo shacks turned watering holes line the path along the lake, but regular buildings sit a fair way back.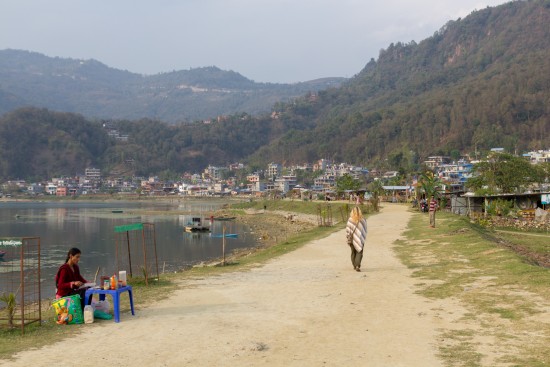 Some stretches of the waterfront are even being used by fishermen and boat builders.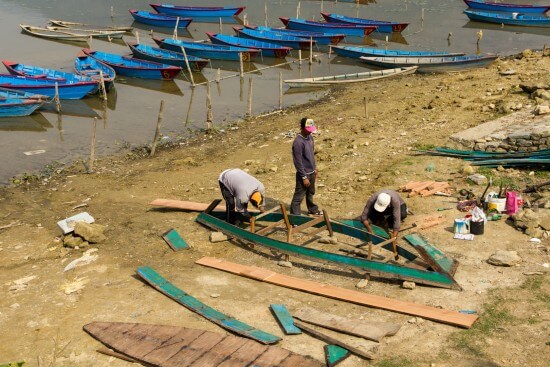 Smack in the middle of it all sits a dry field where locals play cricket and buffalos graze. Looks like prime real estate but maybe it floods during monsoon or something. Hope it stays the way it is for a while longer. Great place to sit, eat an orange and marvel at the scenery.
In other news: I'm going to join the tourist crowds and go trekking in the Himalayas. Instead of doing the ever-popular Annapurna base camp (ABC), I want to go to Khopra, a newly developed trek that has been open for a few years only and apparently sees only a fraction of the visitors ABC encounters.
Researching on why ABC is so popular and other treks are not, the common answer is: Because ABC is in the lonely planet and everybody has done it. So everybody thinks it's the thing to do and wants to join the party.
Will see how it all turns out. The guide I found made a good impression and we agreed to leave Pokhara on Tuesday, planning to return ten days later. All that is only agreed upon verbally, nothing is in writing. Still have a hard time wrapping my head around how much business in Asia is based on trust.