I spent my last evening in Melaka with local couchsurfer Ping, who introduced me to some more of the local cuisine. They have a restaurant here were people sit around a table with a pot of boiling chilli sauce in the middle. All the food comes on sticks and is boiled in the pot before being eaten. Very nice stuff.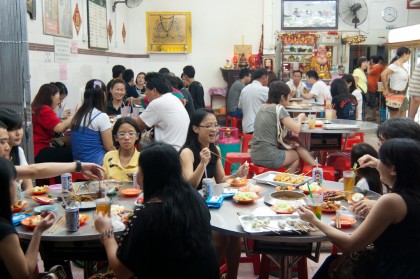 Ping, being Chinese, could also shed some light on the situation of the Chinese in Malaysia. It's not the best situation with Chinese and Indians suffering from discrimination through the Malaysian government. Even though they are Malaysian citizens, they have fewer rights and for example are not allowed to run a business without a Malay business partner.
This morning I left Melaka towards Kuala Lumpur or KL as it is more commonly called. Even though it is just a two hour ride on the bus, it took me almost five hours to get from hostel to hostel. Waiting times and slow local transport in Melaka are to blame.
In KL I arrived at the newly built TBS bus terminal and took a train into the city centre. Like in Melaka, Chinatown is a stronghold of backpacker accommodation and this time I went with the flow and for a place near public transportation and loads of food.
After a late lunch I went for a stroll and visited the national mosque. Not overly impressive, except for its size.
Near the hostel is one of those tourist markets where hundreds of merchants sell all kinds of pirated goods. Rolex anybody? Gucci, Prada? The place is horribly overpriced though, people ask three times of what you'd pay in Bangkok.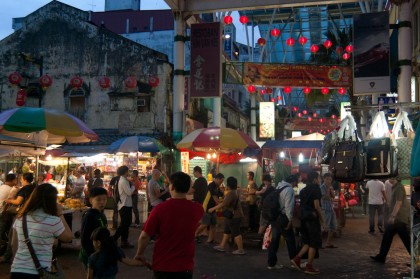 Once the sun had set I wanted to see the most famous building in Malaysia (and possibly all over SEA), the Petronas towers. I have seen a lot of buildings in a lot of cities but these two towers are really impressive. It's not so much their size but the way they are built and – especially at night – illuminated.