On Sunday morning Samart picked me up near my guest house. Being a tour guide he rides one of these trucks with two benches in the back, just like the red taxis here in Chiang Mai. There was dire need for space as he was taking five other couchsurfers as well.
Our first stop was about 45 minutes outside of Chiang Mai where we went to get supplies at a local market. Bringing water is always an important point as tab water is basically undrinkable (for westerners) all over SEA.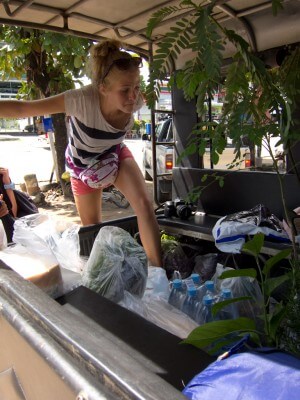 As we approached the Doi Inthanon area, the roads got rougher and finally we were hopping along a dirt track where every 2WD would have been just lost. At some spots the car was going sideways more than it was going forward. Travelling in Thailand is always a bit rough.
When we arrived at Samart's bungalows we were richly compensated for everything. The location is simply breathtaking, overlooking a valley and a distant mountain range.

Samart is not only a very generous host but also a gifted chef. He spent eight years in a temple, was in charge of food and now what he creates with two wood fires pans and pots is simply incredible.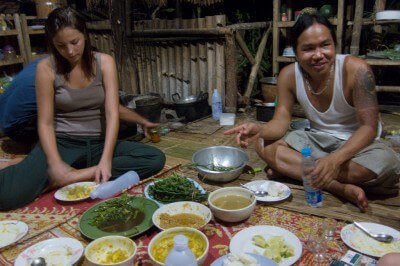 As everybody was somewhat exhausted and sweaty after the journey, we went for a refreshment. Just a short drive from the bungalows is a waterfall, perfect to take a shower in a new way.