Aaaaaaai really don't like bus rides. Especially not the painfully slow ones. After leaving Mandalay yesterday afternoon around 2pm, the (reasonably decent) bus crouched up the narrow and winding road towards the Shan Hills.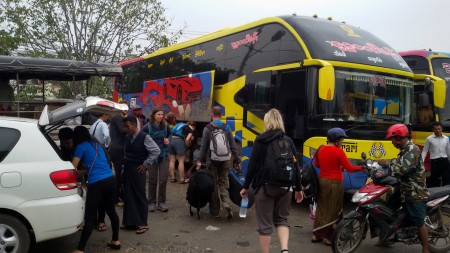 Traffic is heavy and many times the bus has to stop to let another heavy vehicle pass a narrow turn. Two hours into the trip we stop at Pyin U Lwin for some 20 minutes. Enough to get food poisoning at the dodgy looking food outlet – there are actually a couple of takers. I stick with cookies.
Well after nightfall, at around 19:00, we come to an unexpected stop in the middle of nowhere. So do about 50-100 other vehicles. For some reason the road is blocked but we are lucky and it doesn't take more than 15 minutes before we can continue.
I'm stiff as a brick now, the "made for Asian body measures" seat doesn't provide much in back support, it ends somewhere between my shoulder blades. I'm dreaming of a first class coach in a 300 km/h high speed train.
Finally, it's been about 7.5h (for 200km), we pull into the small mountain town of Hsipaw. The local speciality of the Shan state is: Shan noodles. I'm in heaven.