Between Krabi and Ao Nang is a peninsula commonly referred to as Rai Leh and commonly described as a mighty fine piece of beach. The whole peninsula is cut off the mainland by a series of rocks/mountains that make any road impossible and boats the only way of access.
From Krabi the boat costs a mere 150 Baht but the waiting time can be considerable as the boat man wants to have 7-8 passengers to make enough money off the ride. Going to Ao Nang with the Song Thaew and taking a boat from there can be faster but when I checked the pier in Krabi there was already a bunch of people waiting. Some of them for almost an hour as it turned out.
The boats can be described in words as colourful as the ribbons decorating their front, but safe and seaworthy wouldn't be the terms of choice. Still, it's just a twenty minute ride, I'm a good swimmer and the wooden wreckage would probably float if things went wrong. So why not enjoy a little cruise.
Approaching the peninsula from the sea side provides a marvellous sight (even if the light is too crappy for good photos) and gives a solid idea of what the place looks like.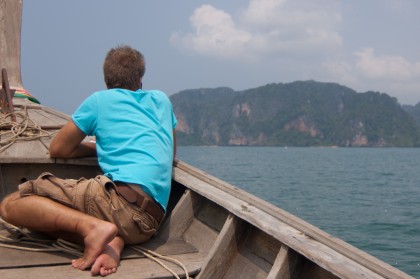 Rai Leh is touristy but actually not too horrible and I could probably spend a day or two there. Maybe more with good company. The first beach I visit is Phra Nang and that place looks like it came straight from some picture postcard.
One of the trees was filled with monkeys and gave a good opportunity for some 'wildlife photography'.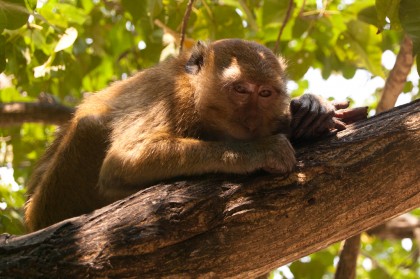 After some taking pictures and slacking around on the beach it was time for lunch. Hawking is illegal on this beach but cunning locals came up with an alternate business idea. This is one of the most unusual restaurants I have eaten at so far.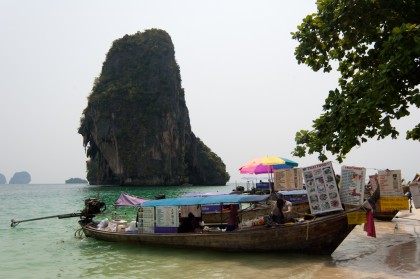 Replenished it was time to see things from above. They have a view point here but access is a bit … challenging.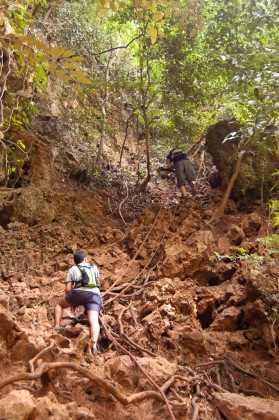 It goes up like that for maybe 100 – 150m but the strenuous ascent is rewarded with a view over the whole peninsula. Have a look at yesterdays blog post to see what the view is like.
After a day with so much activity, I decided to live la vida lazy today and just headed over to the beach near Ao Nang. Pretty much imitated the local old folks there.