---
To get from Kathmandu to Pokhara, the adventurous traveller has several options. A short hop on a domestic airline is the fastest and most expensive. Given that this country had two plane crashes in the short time that I've been here, it's not an option I'd seriously consider.
Which leaves road transportation (or walking). There aren't many things I dread as much as bus journeys in Asia. It's not that I'm overly concerned about safety, it's just that I'm way too tall for… well any kind of vehicle around here.
Fortunately for me, so-called tourist buses ply the road between the two cities and on these buses one actually gets a designated seat. Or two, in my case. It was in Myanmar that I decided to simply purchase two adjacent seats and then be able to park my legs at whatever weird angle pleases. Twice the price but three times the comfort.
Thusly prepared, I rocked up at the tourist bus station (the side of the road) well in time for the 7:00 departure. Vendors offer last minute refreshments but I'd raided the local corner store the previous night and was well set with water, cookies and bananas.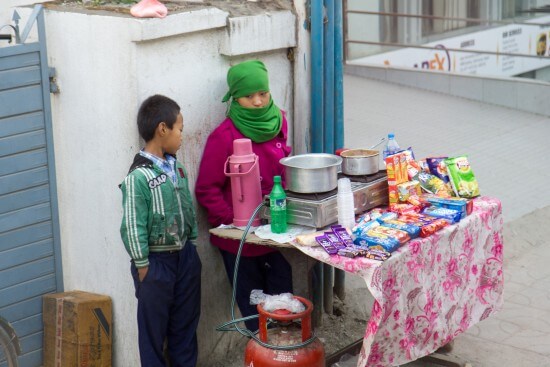 Once we've driven off, it quickly becomes apparent that the bus doesn't have any suspension worth talking of. It's going to be a bumpy ride.
Slowly we make our way out of the capital and after about an hour and a half, the landscape opens up to show Nepal's beauty. The vista remains mostly unchanged while the bus descends from the capital and into the valley.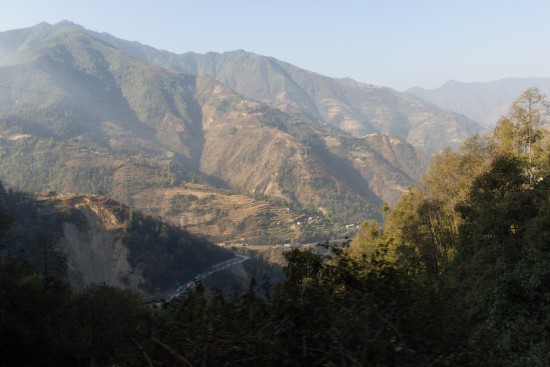 We make three stops on the way, two at roadside restaurants. I find 350 NPR for a plate of rice and mystery-meat curry a bit steep, paid 100 the day before.
In the early afternoon, 8h and about 200km later, we pull into the Pokhara tourist bus station. A swarm of touts and taxi drivers preys on the fresh meat that climbs out of the vehicle – feels almost like Thailand!
Pokhara looks nice so far. Lake side is very touristy but it seems easy enough to get away from that.