"Maha Shivaratri is a Hindu festival of Nepal and India celebrated annually in reverence of the God Shiva" (wikipedia). The guys at the house had gotten pretty excited about it, as it's the one day were one can smoke excessive amounts of weed in the streets without being considered a lowlife.
Yesterday it was that day of the year and I had considered paying the Pashupatinath temple a visit. It is one of the holiest places of Hinduism and people flock from all over Nepal and India for the festival. The massive crowds that were to be expected (in the neighbourhood of a million people) were a bit deterring though. Thus when a couple of young locals offered to take me along for a visit to a Hindu cave in the nearby mountains instead, I was easily sold.
On the back of the common 200cc bikes, we soon left the dusty streets of Kathmandu behind and could breath reasonably fresh countryside air. The ride took less than half an hour and once the bikes were parked, we walked uphill for another 15 minutes or so.
As Baundeshwor Cave is a sacred Hindu site, I wasn't sure whether it'd be ok for me, the atheist, to go in. After asking around, nobody seemed to have an issue with it. Plus I was the only westerner in sight, how much damage can one heathen do anyway.
After washing feet and hands, we stepped up to the narrow and low cave entrance. Having squeezed in, it looked a fair bit like rush hour ahead and most of us, me included, turned right back out.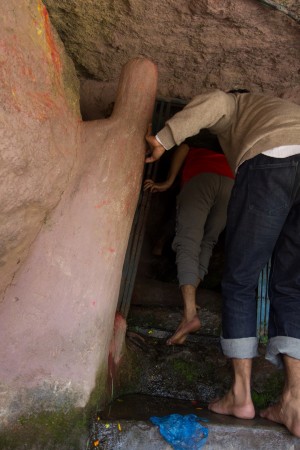 Once the group was re-assembled, we continued the walk up and found a lunch spot with a view. We had a snack of deep fried delicacies (Samosa and the likes) and after that my young friends went ahead with their worshipping of Shiva (read: smoking large amounts of cannabis products).
The sun was setting when we left the mountain behind and it was really nice to have a day out of the city, catch some sun and see some greenery. Plus a random cave on the way back!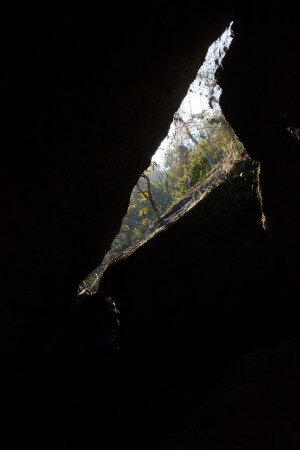 On a side note: This is post #500! It's been a while since publishing #1 on April 15th, 2010 .