So far the car market in Melbourne exceeds my worst expectations. Since Tuesday my ad on gumtree had 500 views and all I got was two replies. Over the weekend I put the price down as far as $500 but still got no offers.
I don't really know what to think about that. The high number of views shows that people are interested in buying cheap cars but for some reason nobody is really interested in mine. People pointed out that the Easter weekend might be one reason, people have a look around but don't want to spend the holidays going around to see cars.
Right now I have two choices. Either I abandon ship, leave the car on the street with the key inside and go to Thailand or I reschedule my flight and hope that another weeks time will bring a buyer for the car. The latter is a bit of gamble because one week in Melbourne costs me around $300-$400.
Still I want to go with that option as something around $1000 is a realistic price for the car and thus statistically I just need a 35% chance of selling it to make the gamble worthwhile.
Due to the situation I'm feeling pretty stressed and it's difficult to have a good time here. Fortunately the weather isn't too bad so I can spend enough time outside the hostel.
Yesterday I went to Torquay, one of the famous surf beaches in Australia. There was heaps of surfers in the water, probably because a nearby surf competition attracted quite an audience.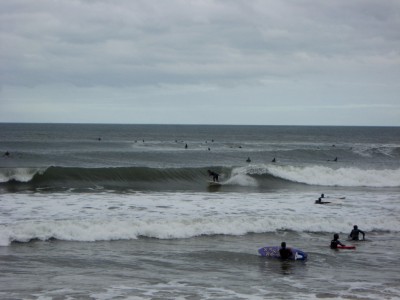 And here's a view from the St. Kilda beach towards the CBD: