On day 2 of my Palestine adventure I met up with another local couchsurfer, Hiba. We walked around the city a little and she gave me a bit of a background about herself. Being a pharmacist and having studied foreign languages (German) at the local Goethe Institute, she certainly is part of the educated population.
One of the sights we visited was a traditional Palestinian house that is now a museum. During the visit she made it clear that religion is very important for her but she strongly objects to blindly following customs and traditions without questioning.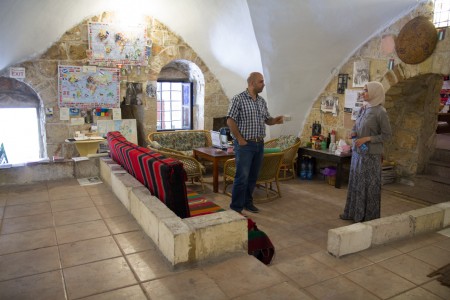 We grabbed some lunch and she suggested to visit a close friend of hers in a village near Ramallah. The city itself, as she said, is too new and doesn't show the real Palestine.
I happily agreed and not much later we were on a shared taxi, heading southerly out of the city. That brought us back towards Jerusalem and with that, the Israeli settlements.
These are as big an issue for her as they are for Mohammad, to whom I chatted the previous day (a teacher by the way).
Once at our destination, we were greeted by Hiba's friend, her husband and their children. After a welcome drink (lemon juice with mint and sugar – yumm) we got into the car and drove a few minutes to a piece of land the family owns (growing olives, apricots, figs, etc.).
I mostly talked with Hiba and her friend, as the husband wasn't very firm in English (and my Arabic is close to non-existent). One big topic of discussion were the three Israeli settlements that pretty much surround the village. From what I've been told, the wells and other water sources are mainly made part of the settlements and are with that inaccessible to the locals (causing water shortages).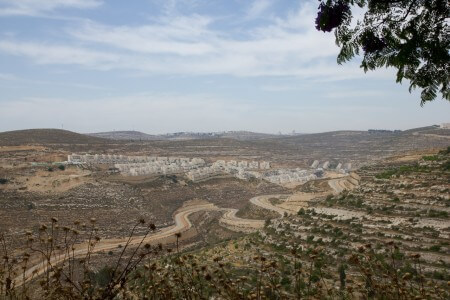 All of them made it clear that – for them – there is no Israel, only occupied Palestine. They also pointed out more than once that their issues aren't with Jews in general and that there are several cities were all three religions live side-by-side.
It was all a lot to take in and my brain is still in overload mode a day later (which is also due to today's trip to Hebron). What surprised me a lot was the calmness with which all the arguments were brought forth. Not the angry Muslim mob I see on TV. Friendly people with smiles on their faces. Who compare Israeli settlements to cancer that destroys their land.