The day before my departure was an uneventful one. I did some final travel planing and tidied up my stuff, getting rid of gear I never used in hopes to make my backpack a bit smaller and lighter. It's the third time I did that in Thailand but every time I end up with a heavy and bursting backpack not much later. No idea how that's physically possible, must be some special backpacker law of physics.
Koh Tao accompanied my evening beer with a nice sunset. After all that time on the Aussie east coast I saw the sun rising over the ocean countless times but never did I see it set there.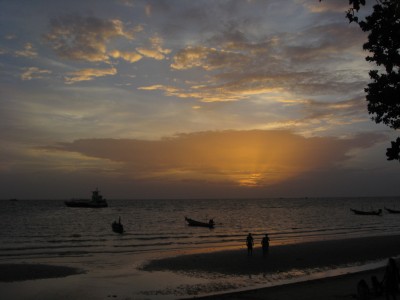 In the morning I have to leave my room at 10:00 which is quite early for Thai standards. I asked them if a later checkout would be possible and was told I'd have to pay 100B per hour. Considering that the bungalow cost me 500B for the whole day that's a blatant rip-off.
They do offer to store my backpack though and as I trust them I gladly accept. Carrying 20kg of luggage on a 35°C day is something I want to leave to the marine corps.
My transport is scheduled to leave at 2pm and I pass the time on the beach and in a free-wifi cafe trying to get some stuff done for Andy. The incompetence of his webhosting provider and the excruciatingly slow internet on the island render all attempts futile. A tasty lunch calms my mind.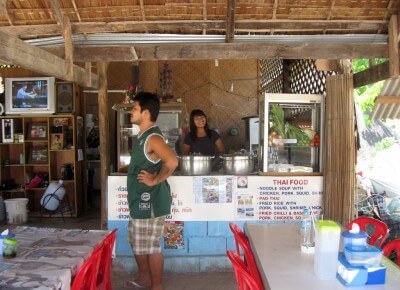 At 2pm sharp I show up at my favourite travel agent's place. He promised to take me to the pier for free which saves me 300B for the taxi ride (would cost not more than 40B in Chiang Mai!). When he said he'd take me and my bags on his motorcycle (motorcycle in Thailand = 125cc semi-automatic) I though he was kidding at first. But remembering how Thais fit a whole family on a scooter I prepared for an adventure.
Fortunately he changed his mind and he and his wife drove me to the pier with their car. The back of a Toyota Hilux is not comfortable but ten times better than a scooter. They drop me of at the ferry and I tell them tanks and goodbye. The Check-In for the ferry is done in a minute and at half two the ferry pulls into the 'harbour' on time.
The ride back to the mainland takes less than two hours and sunshine and little wind make it a pleasant trip. As we approach the coast the monsoon clouds start to build up.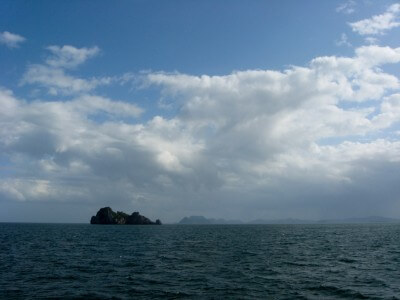 From the ferry pier a coach transfers us to Chumphon where my train will leave at about 9:20pm. Plenty of time to kill but fortunately the town has a night market which delivers an endless supply of food and sights.
To everybody's surprise the train arrives at the station totally on time. I find my place, store my luggage and am in bed half an hour later. The train between Chumphon and Bangkok is unfortunately way less comfortable than the one from Chiang Mai, making it difficult to catch enough sleep. Two or three times I wake up and fall back to sleep minutes later.
At some time in the morning I wake up to the sound of somebody shouting Savadeekaaaab (hello). I see a train attendant, have a look at my clock and see that it's 5am. An hour and a half before arrival in Bangkok. They've got to be kidding me, that can't have been the wakeup call. I try to get back to Morpheus' world but a sudden 'Mister wake up please, arrive Bangkok soon' kills any hopes of sleep.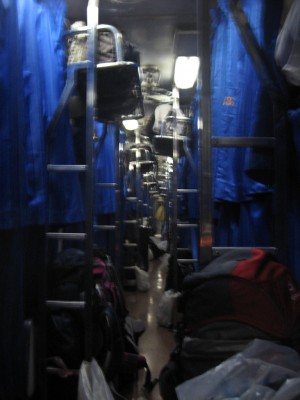 The sleeper car is turned back into a seater car and some people have breakfast while I watch Bangkok's slums pass by the window. At least I'm only lacking sleep.
We arrive in Hua Lamphong pretty much on time and a fellow traveller and I make our way to the subway. He's never used it before and I offered to show him the way. That was good karma as I soon discover. I need to get some USD for Cambodia but all the exchange places are closed for at least another 1.5h. Stupid me.
Fortunately my companion has a hundred bucks to spare and I pass him some Baht in exchange. We newly found business partners make our way into the underground and come across one of the many security checkpoints. These things are a complete joke. They use the same metal detectors airports have but if the thing signals metal they just have a look in the smallest bags one is carrying and let the big backpacks untouched. I could have an assortment of firearms and loads of explosives in there, they wouldn't care.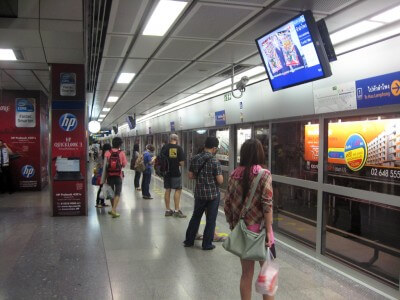 The MRT is pleasantly empty at this time and at about 7:30 I'm at Chatuchak Park. I still need to get to Mochit bus station and from the last time I know that bus #77 is going there. On the bus I find out that it isn't this time. So glad that conductor spoke some English. He talks in Thai to some guys who look like tradies and when the bus stops the next time they signal me to follow them.
We're at a bus stop and one of the guys shortly talks to a Thai girl standing there waiting. He then looks at me, nods and points at her. I assume she's going to the bus station too and I'm supposed to follow her. Minutes later another bus pulls in and the girl waves me to follow her on board.
In the Bangkok buses you just sit down and wait for the conductor (yes, every bus still has one here) to come around and charge 8B (or 12B for air-conned buses). When I want to give the money to the conductor she shakes her head and points at the girl. Apparently she already paid for me. I'm stunned. I almost have to throw the money at her but finally she accepts it. Now that's hospitality.
At the bus terminal she shows me the way to the information booth, asks them where my bus is leaving and then leads me to the counter. I feel like I have a personal guide. I tell her kob-kun-kab (thank you), she wishes me a good trip, smiles and waves goodbye. Thailand I'm truly amazed.
This post is getting long, I'll put Bangkok to the land of the Khmer into another one.
The fastest ferry from Koh Tao to the mainland costs 600 Baht (Lomprayah) and takes 1h 45min. A ticket for a berth on the second class sleeper train costs 690 Baht and gets you into Bangkok within 10-11 hours.