At Mochit bus station I get a ticket for a bus leaving at 9:00 am to Aranyaprathet, the border town on the Thai side. It is a first class bus but the main difference between first and second class is usually the travel time. Both feature air-con and uncomfy seats.
I'm interested in a quick arrival as I have a contact expecting me at the border between 12 and 2pm. Sounds a bit like taken from a movie but it's just the arrangement I have with a Siem Reap guest house. They offer this service free of charge and it's a good way to clear the biggest trouble spot on the journey, the Cambodian site of the border.
The bus leaves with a slight delay and that the driver is stopping at a servo to fill up is not really helping with getting to the border quickly. I have a look at the map, estimate the travel time and see that I'll be at the border close to 2pm.
Just minutes before that time we reach the bus station in Aranyaprathet. From there to the border it's another 5km and my sources recommend taking a tuk-tuk. To my surprise all the Thais stay on the bus and I find out that the bus is going to Rongklua market which is directly at the border.
Now the bus company doesn't want to take all the income from the tuk-tuk drivers so they drive the bus to the border and then another 1-2km along the border away from the actual crossing so that in the end you need a tuk-tuk again. Got to love Asia.
At least the tuk-tuk ride from here is a bit cheaper. Getting paid for the ride is not the main reason for the driver to get you into his vehicle anyway. A common scam is to load of westerners at a 'Cambodian visa office' which sells the visa at ridiculous prices. The only proper place to obtain the visa is at a Cambodian government office between the Thai and Cambodian immigration checkpoints.
I don't have any need for a visa as I've gotten an evisa beforehand. I didn't get much sleep that night and all that border stuff is making me nervous so I'm deeply pissed when my driver is stopping at that scam place and I tell her to get me the fuck to the border.
She obliges and even drives me there straight without trying to pull another common scam, the money exchange. People tell tourists that they need to change their dollars or Baht to Cambodian riel and offer that very same service. The rates they charge easily mean a 30% loss for whoever is stupid enough to fall for that.
Upon getting out of the tuk-tuk a couple of touts await me, offering taxi and bus services. I make it clear that I'm not interested in their services and they let me walk to the Thai immigration office. Five minutes later I'm stamped out of Thailand and in no-mans-land between the countries.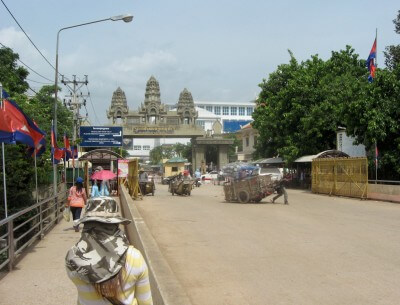 From here I have a detailed set of instructions from my guest house. I am to meet my contact at the Cambodian visa office where I'll see a sign with my name on it. The instructions also warn me that there might be people carrying signs with my name on it before the visa office. These are touts who got the name from the sign in the visa office and make a desperate last attempt to get my money.
Do you get a feeling for why I was a bit nervous about the border crossing? Everything goes smooth though, I just have to fight off some people who want me to fill out some kind of medical form before I meet my contact Sampaht. He takes me to the Cambodian immigration office on the back of his moto (I'm so glad I got around that on Koh Tao), tells me to get stamped in and that he'll await me at the exit.
The arrival card I have to fill out is asking for things like my address in Cambodia. I don't have a clue and just leave the field and a couple of others blank. The unfriendly official doesn't care, he hammers four stamps in my passport and sends me into Cambodia.
Sampaht is awaiting me and introduces me to my driver. A minibus takes us to the public transportation hub some 5km outside of town. They actually have two of these hubs and they take turns in ripping off tourists. The local transport association has methods you'd usually expect from certain organizations headed by a godfather.
My driver escorts me to his aged Toyota Camry and after a couple of attempts that thing starts up. Ten minutes down the road we make a stop for gas. Cambodia seems to be very advanced as they use autogas a lot.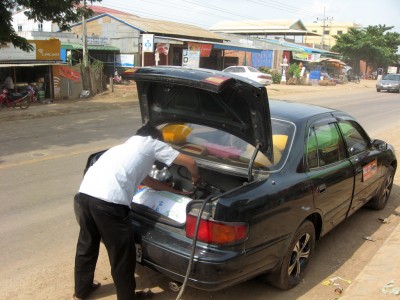 Now it's a bit hard to see what's actually going on in that picture. The guy is connecting some thin hose to a gas tank (the ones you might as well use for BBQs) that is kept in place by the car-jack. How efficient. Seems dodgy? Have a look at the actual service station.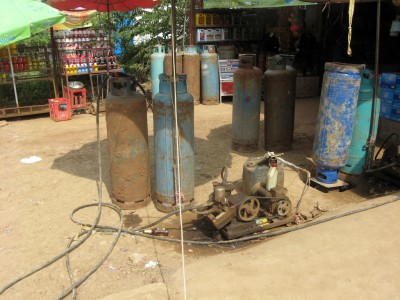 While we are stopping here the driver takes the taxi signs of his car. 'Don't have license for that, don't want to pay police.'. Whatever, I don't care anymore.
The rest of the trip goes through massive rice fields in a landscape that is as flat as northern Germany. My chauffeur is speeding down the road in a way that could earn him the badge of honour by the Thai bus driver association.
We reach Siem Reap without any casualties 90 minutes later and I check into my guest house. Air-Con, en-suite shower, bed, I'm a happy backpacker.
Bangkok to Aranyaprathet takes about 4.5 – 5 hours on the bus and costs 210 Baht. A taxi from Poipet to Siem Reap goes for USD 45 and takes 1.5 hours. If you want to take a bus, be sure to make some research first, otherwise it might take you 4-5 hours and cost more than initially thought.
The Two Dragons guest house in Siem Reap is a bit of the main tourist drag and offers clean rooms and food. The owner runs a website with detailed information on how to do border crossings into Cambodia: Tales of Asia