One week after my first experience with night work I now have a chance to get used to it. At 3am in the morning I left Adelaide to start work on the vineyard at 4:30. This time not as a tractor driver but on the harvester with Jim. That harvester is a huge 9.5t load of steel and needs a driver and somebody to have a look if everything is working alright – my part.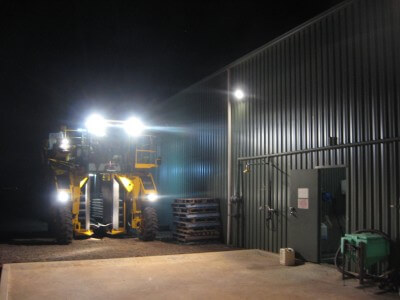 The work is rather easy, ride on the machine and every now and then have a look at the conveyors. Later in the morning when we had some daylight Jim asked me if I wanted to give driving the harvester a try. As I like everything that has wheels and an engine I sure did.
I managed not to knock over any posts or vines for the next half hour but was glad when Jim took over again. That thing is pretty overwhelming and needs undivided attention as any mistake could cause major damage.
John also organised some accommodation for me. It's an old house on a vineyard where nobody is living at the moment. Not in the best shape but with the long working hours (10 today) I basically just need a place to sleep.
Whenever I check the news about the earthquake in Japan it seems to get worse. Hiro's family lives north of Tokyo, just 200km from that bloody Fukushima reactor. I hope they'll be alright.