Just as I had done in Luang Prabang a few years ago, I wanted to go for a two-day/one-night hike in the Hsipaw area. Sadly there weren't any tours going and I didn't feel like paying for a guide just for myself. So instead I went for the available option, which was a one-day trek to one of the villages in the hills.
Our group of seven tourists, one guide and one apprentice guide started out at 8:00 in the morning, just outside the city limits. The weather was cool and a bit drizzly but not uncomfortable. We had a quick stop at a hut along the way and then went the way we were to go for the next three hours: up!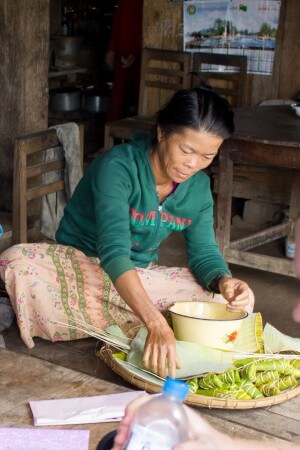 The washed out unsealed road lead along corn fields (for export to China), rice paddies and patches of wild sunflowers.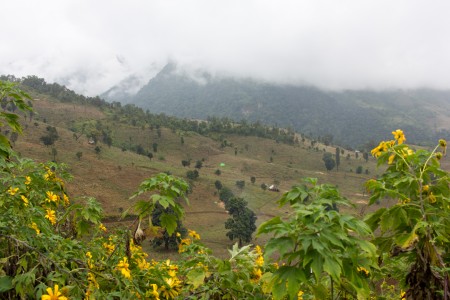 The sun hadn't come through the low hanging clouds yet but I was still sweating a lot. At one time, a little "roadhouse" provided energy in form of rice-and-honey cookies. We had been walking uphill for something like 2h now.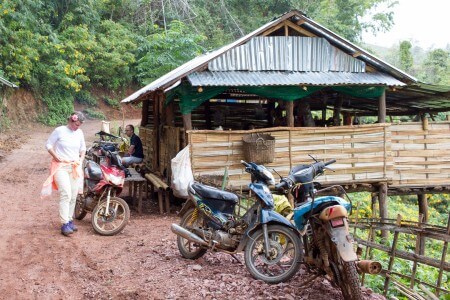 Came noon, we arrived at our lunchtime destination: Pankam Village. From what I've heard it's quite popular with visitors but I didn't see many other non-locals around. We were treated to an amazingly good lunch under the eyes of a couple of elders who were smoking their cigars in the dimly lit room.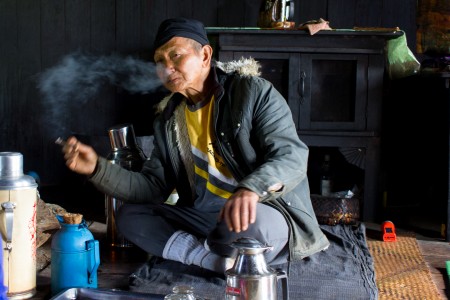 Before setting out on the way back, we had a look around the village's tea plantations and paid the school a quick visit. They teach all classes (5 or 6) in one room and the noise level would have driven me nuts after 15 minutes tops.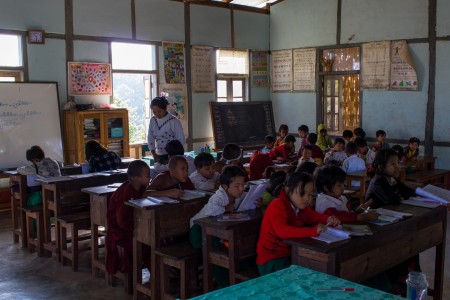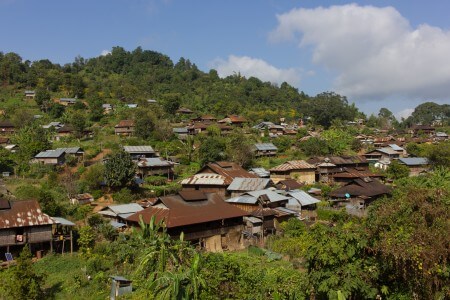 The way back is the same way we came. However with the sun out and facing the other way, it doesn't get boring.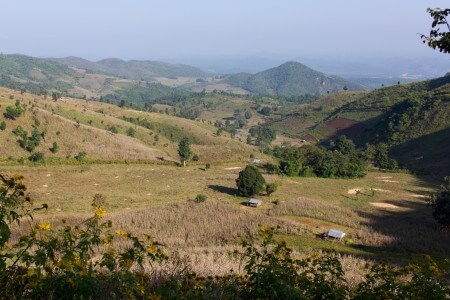 Once again we pass a truck that has broken down on the road. According to our guide, it's been sitting there for the past three weeks. Roadside assistance does take a while out here.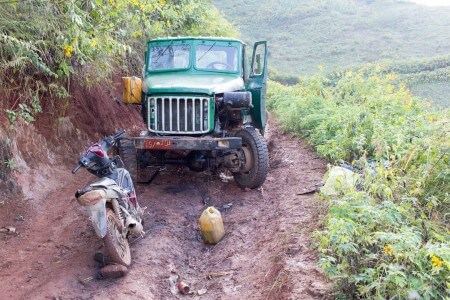 The last hour we walk on flat ground along the familiar ride paddies and banana plants. I haven't worn closed shoes in a long time and the hours of walking downhill have given my toes a fair beating. I'm quite glad when we reach our transport into town. From what the guide says, we've done about 25-30 km today.