6:30 am, the alarm clock is ringing. Due to daytime temperatures of 30-35°C we now start work at 7 am to be done with it before the worst heat kicks in. I spent the last two days with removing dead wood from tree lines and driving it to the farms fire place. It was about 12 trailer loads and when that pile of wood is set on fire one day, they'll see the smoke from Canberra.
Newest addition to the boy toys is an old Landcruiser 4WD that we use to pull the wood trailer or just the wood across the farm. It's the first time I'm driving a 4WD "in the wild" and it's really amazing where you can go with it. Without getting stuck that is.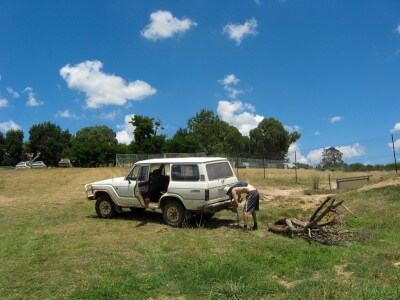 Yesterday evening Susan gave some of us helpers an introduction to the horses. We started with brushing and cleaning them and after that practised leading. I hope I can give riding a try at some point, they're pretty fascinating animals.
At the moment we are seven helpers from France, Belgium and Germany which makes the place feel a bit like a hostel. The guys are all nice people and I'm thinking about staying here till mid February and move straight to Adelaide then instead of working on a second farm on the way.