Bagan is a dusty place – and this is just the end of the rainy season! Under the shower the water quickly turns brown and when I open the computer, I have to give it a quick wipe first. During sunset the haze does add to the spectacle though.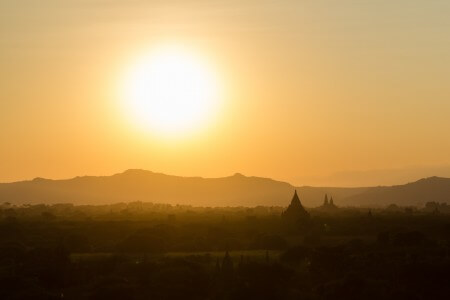 I've started the day with another sunrise, don't know the last time I got up at 5:00 twice in a row. Might be a lifetime first!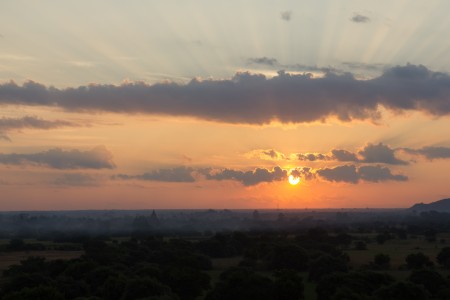 On the way back to the hostel (need some sleep if I get up that early), I come by a farmer and his wife. He waves me over, hands me something and smiles "peanut!". And indeed, it's peanuts fresh from the field.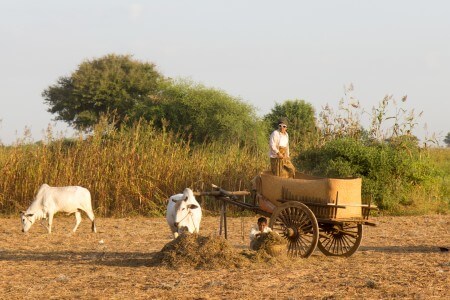 Once again I dodge the mid-day heat and only head out after 15:00. Discovering the small sandy streets with the e-bike is quite fun. By now I've gotten a feeling for it and happily drift around.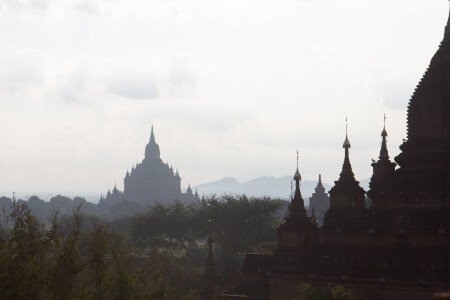 Most of the pagodas here are built by the same pattern: Centre pillar, Buddhas on four sites and somewhere a stairway to the top. In the smaller temples, these stairways are so small that I touch both walls with my shoulders and am almost on all fours on the way up. After dark it's an interesting atmosphere inside.
Once dusk approaches, farmers herd their goats and cattle back home, creating somewhat of a traffic jam on the dusty ways.